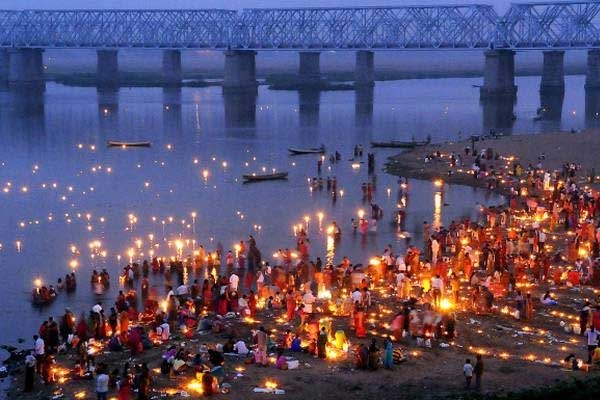 (Image source from: The Hindu)
Kartika Masam is the 8th month in the Hindu lunar calendar, which usually falls in the month of October /November and is considered the most auspicious and sacred month as it is very precious to Lord Shiva and Lord Vishnu.

It is a month-long festival observed by Hindus across the world. The month of Kartik begins from the next day after Deepavali in the regions where a new month starts after Amaavasya.

This year Kartika Masam begins on November 7 and ends on December 7, 2018. Hindus remain occupied throughout the month performing poojas, rituals, functions and other such fetes. It is believed that those who profoundly involve in prayers to Lord Shiva would help them in attaining Moksha (salvation).

Importance of Kartika Masam

It is believed that during this month Lord Shiva killed the mighty and powerful demon kings of Tripurasura and thus relieved all the worlds from their clutches.

There is likewise a belief that Lord Vishnu who goes on a long sleep from Aashada Suddha Ekaadasi day (known as Tholi Ekadasi) wakes up on Kartika Suddha Dwadasi day (known as Ksheerabdi Dwadasi).

According to Puranas (the ancient Hindu texts), during this month Holy River Ganga makes her way into all the rivers, streams and other water resources before she flows into the Bay of Bengal. Due to this reason, it is considered healthy to have early morning baths i.e Kartika Snanam during the month. The flowing waters gain much of kinetic energy and get energized, So taking early morning baths during these cold days assist in getting the body to motivate and is good for well-being.

Important Activities / Poojas

Kartika Deepam

Kartika Masam stands for Kartika Deepam which is the most crucial activity during the month. People proceed to illume oil lamps called 'Kartika Deepams' at the main entranceways till the day of Kartika Pournami. This day is considered the most auspicious day of the month.

                       Image source: Shutterstock
Scientifically, the winter season has shorter days and longer nights. In the olden days before the invention of electricity, people used to light up their homes with oil lamps i.e diyas. Since the point in time, it has turned a practice to adorn the homes during this month by illuminating traditional lamps.

Kartika Snanam

Kartika Masam also signifies Kartika Snanam which means month-long early morning showers (taking bath).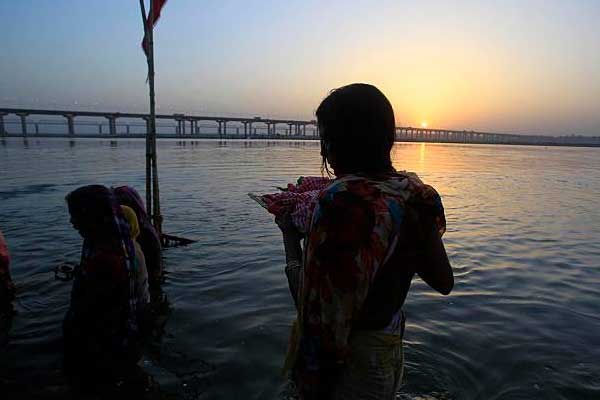 Image source: Getty Images
Scientifically having early morning shower is a healthy activity. The cold wintertime in the months of Oct / Nov makes you sluggish. In order to keep your body progressive and lively, it is mentioned in Puranas that you need to arise early in the morning and have 'Samudra / Nadi (river) Snanam' as the flowing currents of the river water helps in energizing and activating the body cells. Hence keeping the body active, energetic and flushed throughout.

Rudraabhishekam

Devotees visit the nearby Shiva temples during the entire month or only on Mondays and perform 'abhishekam' to Shiva Lingam i.e pouring either ordinary water or milk or fruit juices on Shiva Lingam.

                       Image source: OmMoksh
Scientifically such a pattern of going to house of God and worshiping helps in spiritually elevating one's mind and spreads positive vibes across. It helps one in getting free of the money-oriented world and makes one feel the existence of God.

Kartika Somavar

Mondays are dear to Lord Shiva. The 4 / 5 Mondays of Kartika Masam is especially important. Devotees observe fasting the whole day on these Mondays. At sunset, they refresh with a shower, light up 'sandhya deepam' i.e evening lamp, worship Lord Shiva and then break their fast in the night by having simple food.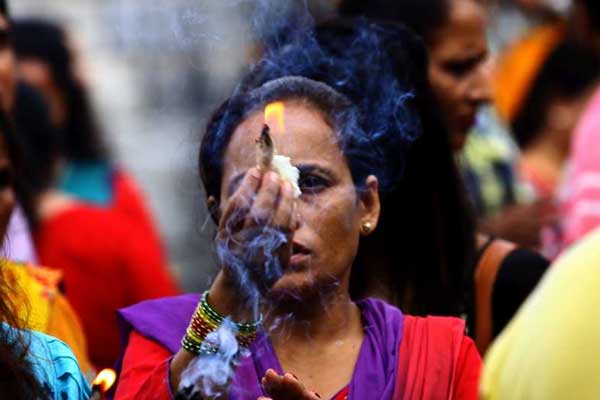 Image Source: Asianlite
Scientifically, the process of digestion takes longer time in winter and people don't feel hungry effortlessly. Thus in order to avoid eating unnecessarily without feeling hungry, fasting is observed. It as well helps in purifying the internal organs and simultaneously it also helps in removing excess fatty content from the body. Thus it helps in holding back a healthy body during winter.

Karthika Maasa Vanabhojanam

'Vanabhojanam' is a Telugu word which precisely means having food/lunch in the open / in the gardens under the trees. Originally, people used to cook food in the 'vanam' i.e gardens and enjoy the food amidst nature. This is just a family's day out.

                       Image Source: Srisailamonline.com
This is an important social activity in the auspicious month of Kartik. This helps in refreshing their minds and recharging their minds. It thus helps in maintaining a healthy and cordial relationship among the members of the family/community which successively helps in developing a healthier/developed society.

The primary concept was to stay fit and refresh/recharge the body, mind, and soul during the cozy winters. The custom is continued even to these days.

Important Festivals:

November 8, 2018 - Govardhan Puja (Gujarati New Year)
November 9, 2018 - Bhagini Hastha Bhojanam, Bhaiya Dooj (Bhai Dooj)
November 10, 2018 - Sodari Tritiya
November 13, 2018 - Surya Shashti Puja
November 16, 2018 - Kansa Vadha
November 19, 2018 - Devutthana Ekadashi (Utthana Ekadashi)
November 20, 2018 - Tulasi Vivaham (Tulasi Kalyanam, Radha Damodara Kalyanotsavam)
November 23, 2018 - Kartika Purnima
November 29, 2018 - Kalabhairava Jayanti (maha Kalbhairav Ashtami)
November 3, 2018 - Utpanna Ekadashi
December 7, 2018 - Kartika Amavasya

-Sowmya Sangam