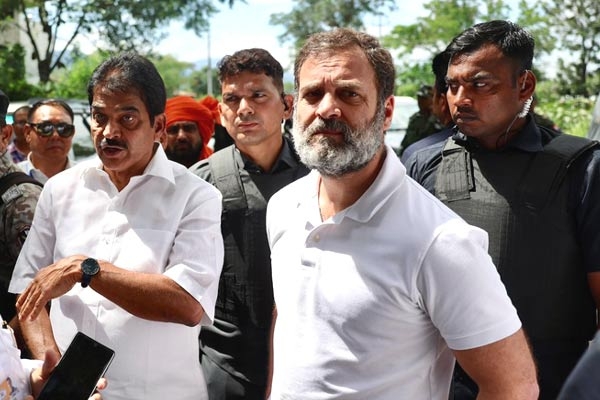 (Image source from: Twitter.com/INCIndia)
Congress party leader Rahul Gandhi's tour was abruptly stopped by the police of Manipur. Rahul Gandhi was in Manipur for a two-day tour to meet the civilians of Manipur who were hit by violence. Rahul Gandhi's convoy was stopped near Bishnupur, while he was on his way to Churachandur town relief camps. Fresh incidents in Manipur are creating panic. Police conveyed that Rahul Gandhi was stopped after seeing the ground situation. He was advised to travel to Churachandur via helicopter.
राहुल जी शांति और मोहब्बत का पैगाम लेकर मणिपुर पहुंचे हैं।

इस बात से तानाशाह डरा हुआ है। pic.twitter.com/DFt9u0Xekb

— Congress (@INCIndia) June 29, 2023
Congress leader KC Venugopal said that we were surprised to know why Rahul Gandhi was stopped from the visit. People were waiting on both sides of the road and waiting to waive for Rahul Gandhi, but he was stopped and sent back. Congress leaders take a dig at BJP for blocking the way to Rahul Gandhi. Congress party president Mallikarjun Kharge wrote on Twitter, " using autocratic methods to stall a compassionate outreach". He also tweeted, "This is totally unacceptable and shatters all constitutional and democratic norms. Manipur needs peace, not confrontation".
Shri @RahulGandhi's convoy in Manipur has been stopped by the police near Bishnupur.

He is going there to meet the people suffering in relief camps and to provide a healing touch in the strife-torn state.

PM Modi has not bothered to break his silence on Manipur. He has left…

— Mallikarjun Kharge (@kharge) June 29, 2023
Besides this, Congress leaders have appealed to the people of Manipur to maintain peace, and calm and extend cooperation during the party leader's visit to the state, Rahul Gandhi's visit was scheduled for 29 and 30 June, but now everything changed.