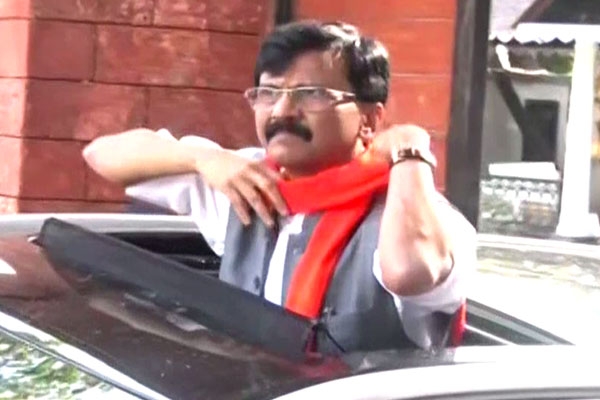 (Image source from: Twitter.com/ANI)
The officials of the Enforcement Directorate arrested Shiv Sena leader Sanjay Raut on the evening of Sunday in Mumbai and the arrest was made in connection with a land scam case. Sanjay Raut will be produced in a special PMLA Court in Mumbai at 11:30 AM today. The agency conducted raids in his residence and recovered Rs 11.5 lakhs. Sanjay Raut's brother informed that Rs 10 lakhs from the seized amount belonged to Chief Minister Eknath Shinde. Sanjay Raut received a summons from the officials of the ED in a money laundering case that involved Sanjay Raut, his wife and his associates.
#WATCH | Mumbai: Earlier visuals of Shiv Sena leader Sanjay Raut when he was taken to the ED office after being detained by ED officials from his residence pic.twitter.com/nZrWKecNeI

— ANI (@ANI) July 31, 2022
The Enforcement Directorate officials along with the Central Reserve Police Forces reached the residence of Sanjay Raut on Sunday at 7 AM in the suburban of Bhandup. Sanjay Raut said that ED is in a mood to arrest him and he was ready for it. "The government agencies are mounting pressure on me and I am not ready to leave my party" told Sanjay Raut. He appeared before the ED in Mumbai on July 1st in relation with the case. ED summoned him twice after that but he did not attend the investigation. Sanjay Raut is a Rajya Sabha member from Shiv Sena and is a close associate of Uddhav Thackeray. "I swear by late Balasabheb Thackeray that I have nothing to do with the scam". The Enforcement Directorate officials are expected to seek his custody in the court.
By Siva Kumar