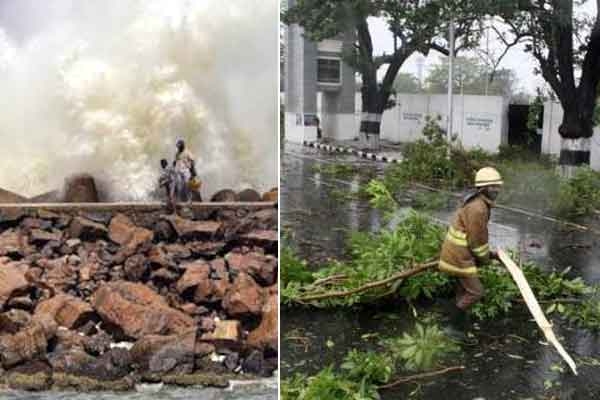 (Image source from: BusinessToday and DNA India)
As per the India Meteorogical Department, in the early hours of Thursday, the very destructive cyclonic storm Nivar made landfall near Puducherry and Tamil Nadu.

This tropical storm originated in Bay of Bengal. Puducherry witnessed an unprecedented rainfall of 20 cm in the last 20 hours.

Between 8.30am of November and 2.30am of November 26, this storm left 63mm in Nagapattinam, 86mm in Karaikal, 246mm in Cuddalore, 237mm rainfall in Puducherry and 89mm in Chennai.

In the two States, over two lakh people were shifted to cyclone shelters on Wednesday. Collector Chandra Sekhar said, around 50,000 in Cuddalore were moved to 233 Government shelters.

NDRF to engage in relief operations in the most affected areas in the Southern Suburbs in Chennai.

Due to non-stop rains, trees lost support and fell in many places. In the last 24 hours, 223 of 267 trees have fallen.To ensure safety, power supply was cut off in Chennai.

Having said, T Nagar, KK Nagar, Tambaram, Velacherry, Madipakkam, Nanganallur, Thiruvanmiyur, Washermanpet, Royapuram, and Pulianthope experienced a power-cut for few hours.

Many low lying areas in Puducherry and Tamil Nadu are overburdened. Along the Kaivalya river in Nellore district's Venkatagiri, there was 304mm rainfall till 8 am.

Areas such as Nellore and Chittoor districts have been alerted as 11 and 20 cm of rain and wind speeds of up to 75 km per hour is anticipated. Even fishermen have been advised not to go out to sea and low-lying areas to ensure safety.
According to revenue department sources, water from Adyar river has flooded residential pockets of Mudichur and Varadharajapuram near Tambaram.

In total, over 1200 National Disaster Response Force personnel's have been posted in Tamil Nadu, Puducherry, and neighbouring Andhra Pradesh.

In addition, 20 more teams will be backed up in Odisha's Cuttack, Vijaywada in Andhra Pradesh, and Thrissur in Kerala.

Even naval ships, aircrafts, and rescue teams have been kept on standby to monitor the movement of Nivar.

Tamil Nadu's CM, E Palaniswami urged people to stay indoors as far as possible and mentioned that over 4,000 "vulnerable" locations had been spotted.

Government officials in Chennai proactively released water from a major reservoir and cleared fallen trees.

PM Modi tweeted earlier on Tuesday, "Spoke to Tamil Nadu Chief Minister Shri Edappadi K Palaniswami and Puducherry Chief Minister Shri V Narayanasamy regarding the situation in the wake of Cyclone Nivar. Assured all possible support from the Centre. I pray for the safety and well-being of those living in the affected areas."

An alert was given by Andhra Pradesh Chief Minister Jagan that the rainfall is expected to move inland.

Due to heavy water flow, the Chennai airport has been shut down.

By Neha Makhija