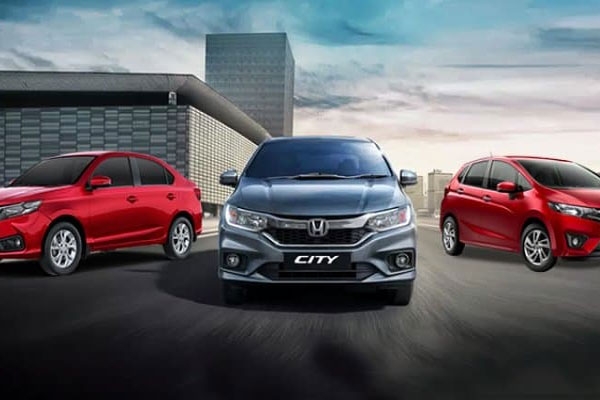 (Image source from: autoportal.com)
'Honda from Home' platform encourages buyers to purchase the cars from home and avail additional benefits.
The automobile industry is one such sector that has suffered huge losses during and before the pandemic too.
With the imminent festive season, hopes of the automotive dealers have been cropping up as they plan to revive the lost demand by offering some interesting discounts, benefits, and services.
One of the first car manufacturers to launch such offers is Honda Cars India. The company is providing comprehensive benefits worth Rs. 2.5 lakh to the interested new buyers.
Moreover, the company has started an online platform called 'Honda from home' which encourages the buyers to book new cars from the comfort of their homes.
In a recent tweet by the Honda Cars, the company has shared the list of all the new interesting offers which are currently available at all Honda dealerships.
Attractive finance schemes and interesting offers are being introduced to welcome new members to the Honda family.
Honda Cars India has recently launched an updated version of its premium hatchback Jazz with a starting price of Rs. 7.5 lakh ex-showroom.
The new version comes with new and fresh looks, premium styling and a new flagship ZX trim along with other impressive features.
The whole new Jazz comes with a 1.2-liter petrol engine which is compatible with both manual and automatic engines.
The model comes in three grades, V, VX and ZX which are priced at Rs. 7.5 lakh, Rs. 8.5 lakh and Rs. 8.74 lakh respectively.
However, the seven speed continuously variable transmission variants are priced at Rs. 8.5 lakh, Rs. 9.10 lakh and Rs. 9.74 lakh respectively.
The fuel efficiency of the car when driven manually gives about 16.6 km per liter and the model also offers 354 liters of boot space.
The steering wheel comes with mounted paddle shifters to control the shifts for a more pleasant driving experience.
The CVT variants of Honda Jazz are the most popular variants which have accounted for about 70 percent of all the sales in the market last year.
This new variant of Jazz comes with the features like a 17.7 cm touch screen audio, video and audio navigation system, automatic air conditioning, dual airbags, multi view rear camera, and the most recognizable pedestrian injury mitigation technology which has stood out in all the features of this car.
By Gayatri Yellayi