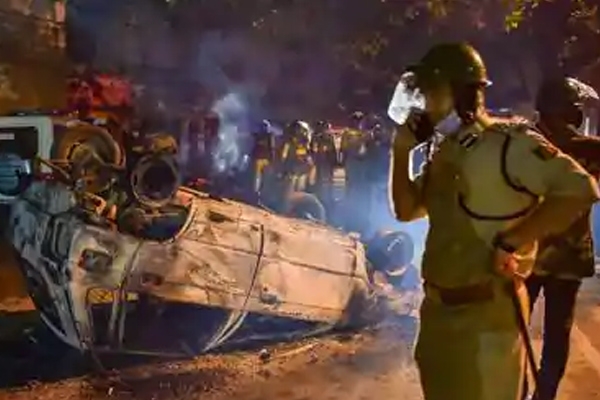 (Image source from: hindustantimes.com)
3 people were dead after police opened fire at the violent mob which took to streets to protest over a Facebook post by a relative of a Congress legislator.
On 11th August, Tuesday, at Bengaluru, violence began in DJ Halli and Byrasandra areas and spread over to KJ Halli after a Facebook post by a relative of a Congress leader Akhanda Srinivas Murthy reportedly insulted Prophet Muhammed created outcry.
According to reports, around 60 police personnel were injured in the violence on late Tuesday.
Some unknown people have set Murthy's house on fire and hurled petrol bombs. He addressed the police personnel to take action against the culprits.
The accused relative, Naveen, has been arrested for allegedly sharing derogatory posts on social media by Bengaluru Police Commissioner Kamal Pant.
Moreover, 110 people have been nabbed in connection with stone pelting, arson and assaults on Police personnel.
Reacting to the incident, Karnataka Chief Minister B S Yeddyurappa said that the directives have been issued against the perpetrators of the assault and also said that the government has taken all possible measures to bring the condition under control.
He said that the attack on police personnel, journalists and public is unacceptable and the government wouldn't tolerate such acts.
Restrictions under the section 144 of CrPC have been issued in Bengaluru with curfew being imposed in DJ Halli and KJ Halli police station limits.
What exactly happened?
According to Police, a large mob gathered outside KJ Halli police station demanding the arrest of the MLA's relative Naveen over the derogatory post on social media.
As the police were talking to this mob over the issue, another mob with 200 people gathered at the MLA's house around 8 30 pm on August 11.
They began pelting stones and setting the vehicles on fire at the home of MLA. However, he was not present at the home during this attack.
After some time, the mob had reached the police station at KG Halli and started pelting stones at the police station and even damaged the DCP's official car.
Police reinforcement which was led by the Commissioner Kamal Pant soon arrived onto the location. As the situation was going out of control, the police personnel had opened fire.
Meanwhile, the MLA's relative Naveen who posted the derogatory comments on Prophet Muhammad claimed that his Facebook account has been hacked and it was not him who actually wrote the post.
Home Minister of Karnataka Basavaraj had appealed the public for peace and said that the issue would be investigated and vandalism is not the solution.
He also said that he had given free hand to the police to handle the situation.
Meanwhile, the MLA had released a video requesting the Muslim friends to stop the fight and assured that the culprit would be taught a lesson through legal means. He said that he also stands with the Muslim population in this issue.
By Gayatri Yellayi