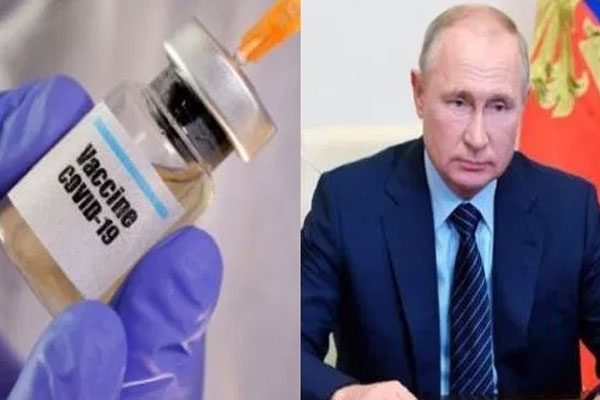 (Image source from: newslivetv.com)
Russia has launched the World's first coronavirus vaccine on Tuesday and here's everything you need to know.
As the number of coronavirus cases continue to surge across the world, scientists and researchers are working hard to bring out an efficient Vaccine to fight against COVID-19.
Currently, there are 160 vaccine candidates across the world at different stages of production and 27 of them have reached the human trials.
While the vaccine created by Oxford University and AstraZeneca is being called the frontrunner, Russia launched its first COVID-19 vaccine on Tuesday.
President Vladimir Putin has announced one of his daughters is already vaccinated with the newly launched medicine and said that Russia is the world's first nation to register a vaccine.
According to reports, Putin has emphasized on the vaccine and said that it has passed all the necessary tests and his daughter started feeling well and had developed a good amount of antibodies after injecting the vaccine.
The vaccine candidate developed by Russian Gamaleya National Research and Russian defense ministry have been raising eyebrows ever since the announcement of World's first COVID-19 vaccine is doing rounds.
As per the updates, the vaccine from Russia has been registered on August 11, 2020 making Russia the first country to register a vaccine in its name to battle the coronavirus.
This vaccine from Russia is an adenovirus based viral vector vaccine which is combined with the protein of SARS-CoV2 virus to induce an immune response into the body.
While talking about the safety and efficacy of the vaccine, Alexander Gintsburg, the director of Gamaleya National Research said that the coronavirus particles in the vaccine cannot harm the body as they cannot multiply.
The particles or objects that can reproduce are only considered alive and as these viruses cannot multiply they are dead and safe.
While this Russian vaccine was given a green signal to launch by Anna Popova, the sanitary watchdog, experts are questioning the fast track approach of the development of this vaccine.
Some experts are skeptical about the results provided by the Russian government.
Some of the experts even said that there would be a possibility for the increase in the number of coronavirus cases if a wrong vaccine is given.
So, it is important to know which type of antibodies this vaccine will form in the patient's immune system.
Notably, the World Health Organization (WHO) had already strictly advised the Russian authorities to proceed as per the already established guidelines to produce a safe and effective coronavirus vaccine to the world.
By Gayatri Yellayi