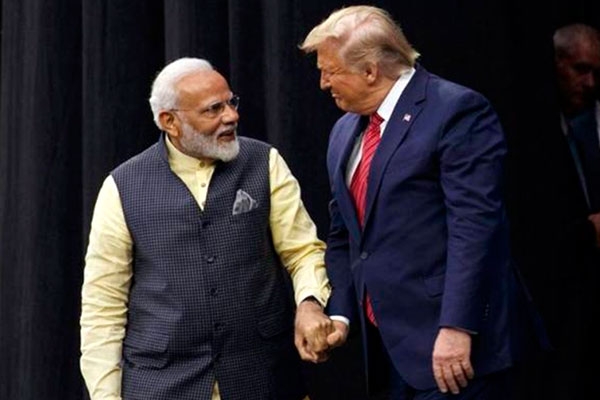 (Image source from: The Wire)
President Donald Trump while addressing media before a bilateral meeting with Prime Minister Narendra Modi on sidelines of UNGA, praised the PM for unifying the country after a lot of dissension, a lot of fighting and called him a "father of India".

In response to Trump's comment, Union Minister Jitendra Singh said those unwilling to accept Prime Minister Narendra Modi as "the father of India" cannot call themselves Indians.

The remark by the U.S. president raised eyebrows given that the honorific is extensively seen as a tribute to Mahatma Gandhi, who played a crucial role in India's fight for independence.
                       (Image source from: Mathrubhumi)

Jitendra Singh, Minister of State (MoS) for the Prime Minister's Office, was quoted by news agency PTI, saying:
People who live abroad are proud today of being Indian. This is happening due to the personality and personal outreach of Prime Minister Modi.
This is the first time that an American president has used this kind of words of praise not for an Indian Prime Minister but for any other world leader and if someone is not proud of this, then maybe he does not consider himself Indian.
Speaking to reporters in New York City on Tuesday, Trump said he remembers India before when it was torn and Modi deserves credit for doing a fantastic job.
I remember India before... it was very torn. There was a lot of dissension, a lot of fighting. And he brought it all together. Like a father would bring it together. We would call him the father of India... I think he has done a fantastic job.
Nevertheless, Twitterati was quick to troll Trump for calling Modi a 'father of the nation'. This is how they reacted:
Trump : Modi is father of India.
Gandhi : pic.twitter.com/3BDMSafef4

— THE SKIN DOCTOR (@theskindoctor13) September 24, 2019
One is father of India and another one is Nobel peace prize winner

— Nelson (@nelson_kadiyam) September 24, 2019
Trumph - Ye Modi kahin ek din America Ka president na ban jaaye. . pic.twitter.com/aAbCvrOZm5

— Megha Jain (@iammegha12) September 24, 2019
+ @RajkumarHirani @duttsanjay @vidya_balan @dilipprabh,

you guys need to reshoot, remake
"Lage Raho Munnabhai"
now that @realDonaldTrump has rediscovered "#FatherOfIndia" pic.twitter.com/HfldS2zQBu

— jungli jalebi (@junglijalebi) September 24, 2019
It's not surprising. Modi in Houston chanted 'Abki Baar Trump Sarkar'... Calling Modi 'Father of India' was a return gift, nothing else... Noone takes Trump seriously, not evn in USA.#Modi #Trump

— Kirtesh (@iamkirtesh) September 25, 2019
Omg... this man #Trump is most unpredictable man on earth

— Asha Bisht (@AashaBisht) September 24, 2019

He also compared Modi to Elvis Presley, legendary American performer, and called him an American version of Elvis.

By Sowmya Sangam