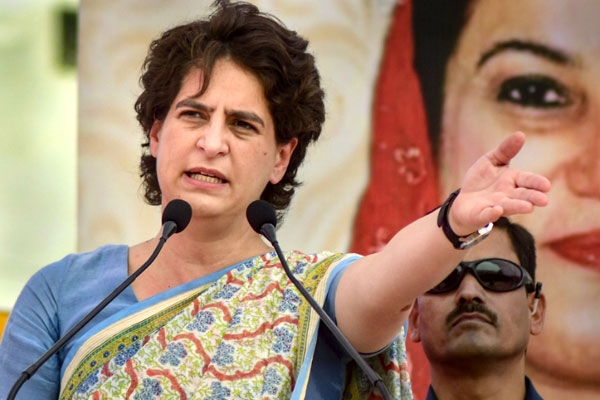 (Image source from: News18.com)
Indian National Congress General Secretary Priyanka Gandhi Vadra on Thursday attacking Narendra Modi government on the state of economy asked what policies have led Indian investors to lose their confidence.

"Indian people do not want to keep their money in the country, do not want to invest in businesses. Investment is not coming from outside. What are these economic policies of the BJP government from which everyone's trust has been lost?" tweeted Priyanka Gandhi in Hindi quoting a media report.  
भारतीय लोग अपना पैसा देश में रखना नहीं चाहते, व्यवसायों में निवेश नहीं करना चाहते। बाहर से निवेश आ नहीं रहा।

भाजपा सरकार की ये कौन सी आर्थिक नीतियाँ हैं जिस पर से सबका भरोसा उठ चुका है?https://t.co/AYHEqkCKBg

— Priyanka Gandhi Vadra (@priyankagandhi) September 19, 2019

According to the media report shared by Priyanka Gandhi, currently serving as a General Secretary of AICC for Uttar Pradesh East, in July this year, Indians have sent USD 1.6 billion to foreign countries, the higher amount so far, under the Liberalized Remittance Scheme.  

Since Narendra Modi assumed power as Prime Minister in 2014, USD billion (around 3.15 lakh crore) has been remitted to abroad compared to April 2019 March 2014 period under United Progressive Alliance (UPA) government during which USD 5.5 billion was sent outside India, the media report said.

The Liberalized Remittance Scheme by Reserve Bank of India allows Indian residents to remit a fixed amount of money during a financial year to another country for expenditure and investment.

By Sowmya Sangam