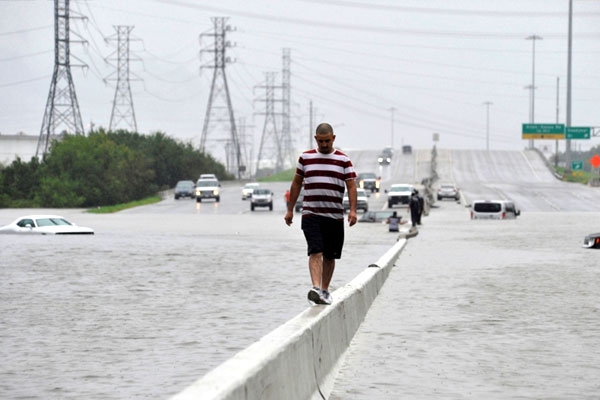 (Image source from: Public Radio International)
Indian American community across the United States is all geared up for Prime Minister Narendra Modi's 'Howdy Modi!' event scheduled on September 22 in Houston's historic NGR Stadium.

But then, the torrential rains precipitated by a tropical storm brewing in the Gulf of Mexico and the Atlantic Ocean have wreaked chaos in the city in Texas, prompting the governor Greg Abbott to declare a state of emergency in several parts of the state of Texas.

Tropical Depression Imelda hit Texas on Thursday, leading to devastating flooding, power outages and prompting urgent emergency rescues and warnings across southeastern Texas for people to stay indoors.   

Declared a state of emergency for 13 counties in southeastern Texas, Abbott said:
This happened very quickly. It just demonstrates that in this day and time, climate change is real. We no longer have to be concerned just with a hurricane. We have to be concerned with almost any sort of weather system that can quickly evolve into a major storm and produce a great deal of rain.
Despite this, the organizers of 'Howdy Modi!', the mega diaspora event, are optimistic and confident that all the attendees, expected to be over 50,000, will have an experience they will cherish all their lives.

According to National Weather Service, the rainfall is winding down in the regions that had been hit the hardest, but some parts of Harris, Fort Bend, and Galveston counties are seeing additional 2 to 3 inches of rainfall every hour.

Along with several influential government officials, including Governors, Members of Congress and Mayors, President Donald Trump will join PM Modi to attend the 'Howdy Modi!' event on Sunday.

By Sowmya Sangam