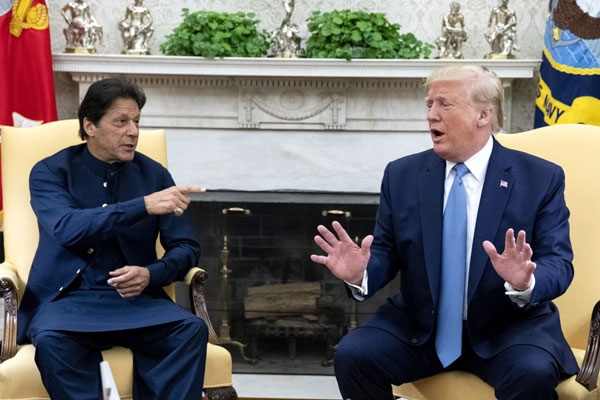 (Image source from: South China Morning Post)
The central United States Senators are advising President Donald Trump to play a productive role in resolving Kashmir and other primary disputes between India and Pakistan.  

In a letter dated September 12, the Senators Chris Van Hollen, Todd Young, Ben Cardin, and Lindsay Graham expressed concern over the human rights situation in Kashmir and urged him to use his power to release the detained people after August 5, when India abrogated special status to Jammu and Kashmir and bifurcated it into Union territories - Jammu and Kashmir, and Ladakh.

The letter stated:
We ask that you call upon Prime Minister (Narendra Modi) Modi to fully restore telecommunications and internet services, lift the lockdown and curfew, and release Kashmiris detained pursuant to India's revocation of Article 370.
The letter by four senators came days after Indian American Congresswoman Pramila Jayapal and another American lawmaker asked the United States Secretary of State Mike Pompeo to urge India to immediately end the communications blockade in Kashmir and release those who have been detained including local politicians, activists, academics, and students

The letter sent to President Trump also said:
We write to express our concern regarding the situation in Kashmir, which has grave implications for democracy, human rights and regional stability.
While we support your goal of working with the parties to help find a long-term resolution to the status of Kashmir, we write now to urge you to immediately facilitate an end to the current humanitarian crisis there.
The signatories include Senator Graham, one of Trump's close adviser on South Asian affairs and Karachi-born Van Hollen. They reminded Trump of his July 22 offer to play a mediatory role in alleviating India-Pakistan tensions over Kashmir and other issues.
In keeping with your offer of assistance in July, we believe that US engagement with India will be critical in providing relief for the all of the people of Kashmir. The United States has a vital role to play in facilitating a resolution to this humanitarian crisis, and we urge you to act swiftly.
They also noted that soon after revoking Article 370, India deployed several additional troops to the Kashmir Valley and subsequently imposed curfews on its residents, and blocked access to the internet, telephones, and any other means of communication.

The senators wrote the information blackout severely restricted access to medical services, prevented families from contacting each other, and disrupted the local economy.

Urging Trump to use influence to bring relief to Kasmir residents, the Senators wrote Pakistan must also end its support and haven for militant groups operating on its soil and refrain from taking any steps that could further destabilize Kashmir.

The senators while reminding Trump why he needed to play a more active role in resolving the Kashmir crisis, said:
Once the urgent humanitarian situation has been addressed, we hope the United States can play a constructive role in helping resolve the underlying disputes between the two nuclear powers, India and Pakistan.
Several organizations, including Kashmiri Overseas Association (KOA), supported the revocation of Article 370 saying it will provide equal opportunities to everyone and will make a way for the development of regions which have been neglected since long like Ladakh.

By Sowmya Sangam