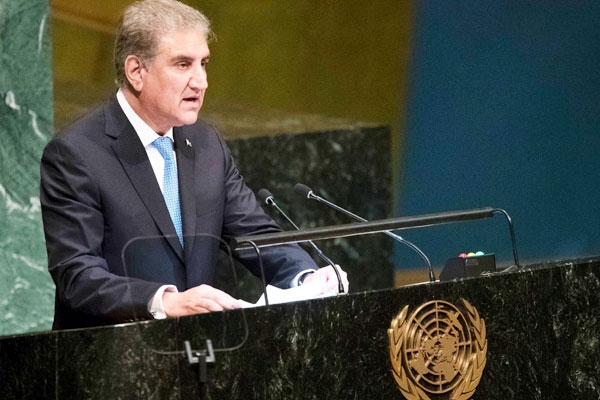 (Image source from: Dawn)
After fierce tensions between India and Pakistan over the revocation of Article 370, the nuclear-armed country finally admitted that Jammu and Kashmir belong to India.

Foreign Minister Shah Mahmood Qureshi on Tuesday during his address with reporters in Geneva on the sidelines of the United Nations Human Rights Council (INHRC) called Kashmir "Indian state of Jammu and Kashmir." He finally accepted the region to be part of Indian territory.

On Monday, India issued a strong rebuttal against Bejing and Pakistan's capital Islamabad for making reference to Jammu and Kashmir in their joint statement issued at the conclusion of Chinese Foreign Minister Wang Yi's two-day visit to the capital.

According to reports, over Kashmir, China reiterated its support to Pakistan saying that Bejing stands with is Islamabad for protecting its sovereignty, territorial integrity, independence, and national dignity.
#PakConcedesKashmir | After lying for 72 years on Kashmir, Pak FM @SMQureshiPTI finally admits the truth and calls Kashmir an 'Indian state'.

TIMES NOW's Srinjoy Chowdhury with more details. Listen in. pic.twitter.com/vEoAfy48dE

— TIMES NOW (@TimesNow) September 10, 2019

In the current UNHRC session, the two neighboring nations are all set to talk over Kashmir. While India has sent a team of Ajay Bisaria, the India High Commissioner to Pakistan, and Vijay Thakur Singh, Secretary East, Pakistan's delegation is being led by its Foreign Minister Shah Mahmood Qureshi.

Read: Misinformation Being Spread on J&K: Kashmiri-American Body

Speaking at the forum, Qureshi called on UNHRC to not remain indifferent to the situation in Kashmir. "Today, I have knocked on the doors of the Human Rights Council, the repository of the world's conscience on human rights, to seek justice and respect for the people of Kashmir," he said.

The statement by Qureshi comes a day after UN human rights chief Michelle Bachelet expressed deep concern over the impact of restrictions applied in Kashmir, and asked India to ease the current lockdowns to guarantee people's access to basic services.

Pakistan in all its previous attempts turned out unsuccessful to internationalize the issue after the revocation of Article 370 that provided special status to Jammu and Kashmir.

Several countries have reiterated India government's stand that Kashmir is the internal matter of the country and both the neighbors should bilaterally address the issue.

By Sowmya Sangam