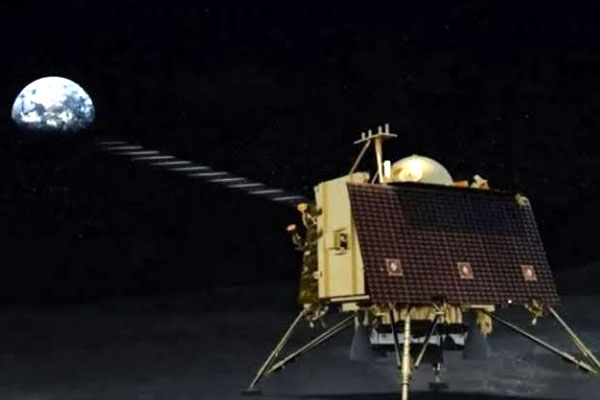 (Image source from: India Today)
After ISTRAC center of the Indian Space Research Organization (ISRO) announced that communication with the Vikram was lost as it was descending towards the Moon early on Saturday, Prime Minister Narendra Modi told space scientists he was proud of a program that had come so near to putting a probe on the moon.

The fate of the craft is not yet known. Anticipating further opportunities of the landing, PM Modi said: "The best is yet to come in our space program. India is with you."

The Chandrayaan-2 approached the Moon as normal until an error occurred about 2.1km (1.3 miles) from the surface, according to the officials.

The lander was scheduled to make a soft landing on the south pole of the moon between 1.30 a.m. and 2.30 a.m. on September 7. The Chandrayaan-2 orbiter will, however, continue to go around the moon in an orbit of 96 km x 125 km and will carry out experiments for one year.

ISRO Chairman Kailasavadivoo Sivan announced that the space agency's telemetry, tracking, and command network is analyzing the issue to check the problem.

"Whatever you have done till now is no mean feat," PM Modi said. "The nation is proud of you. You all have served the nation and done a great service to science and mankind. Move ahead with lots of courage. I am with you, hope for the best," he added.
India is proud of our scientists! They've given their best and have always made India proud. These are moments to be courageous, and courageous we will be!

Chairman @isro gave updates on Chandrayaan-2. We remain hopeful and will continue working hard on our space programme.

— Narendra Modi (@narendramodi) September 6, 2019

Scientists were fixed to the screens at ISRO's Bangalore space center as the spacecraft made its descent towards the surface. PM Modi was watching the action from behind a glass screen.

The control room burst into cheering during the alleged rough breaking phase of the descent.  

Sivan announced to staff that the ship's initial descent had been "normal," and that the mission's data would be analyzed.
Narendra Modi Consoles Sivan
On July 22, the scientists at Satish Dhawan Space Centre in Sriharikota launched Chandrayaan-2 successfully by the GSLV Mk-III and had set foot in the Lunar Transfer Trajectory on August 14. On August 20, Chandrayaan-2 entered the lunar orbit. On September 2, the Vikram Lander separated from Chandrayaan-2 to make its way for the soft landing.
By Sowmya Sangam