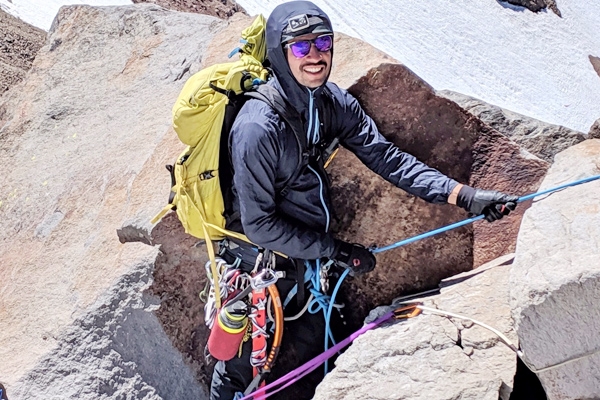 (Image source from: GoFundMe)
A 35-year-old Indian origin man was killed in an accident early this week in an Oregon state park while hiking, according to the Deschutes County Sheriff's Office.

Chaitanya Sathe had tripped and fell roughly 100 feet near the access to Lower Gorge at Smith Rock State Park while coming down a climber's path on Saturday at around 9:40 a.m., the investigation revealed.

The park covers about 650 acres and is at around 3,000 feet in height.

Sheriff office' rescue personnel and officials arrived at the scene soon after receiving information about the accident, but Chaitanya was pronounced dead at the site.

According to the reports, Chaitanya, originally from Bengaluru, was employed as an engineer at Intel in Hillsboro, Oregon. He was a graduate from University Visvesvaraya College of Engineering in Bengaluru and did his Masters at the Indian Institute of Science (IISc) in his hometown. He was a promising researcher and scientist with the Theoretical and Computational Biophysics Group at the University of Illinois Urbana-Champaign.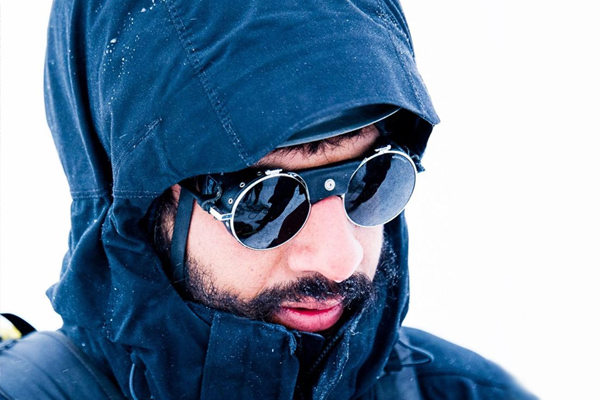 (Image source from: Facebook/chaitanya.sathe.5)
Mazamas hiking group, where he was a member, posted a message on Facebook mourning his death. "The Mazamas are deeply saddened to have lost one of our members to an accident on August 24th at Smith Rock State Park. Chaitanya Sathe, an active member of the Mazamas, passed away while on a personal climbing trip. We extend our deepest and heartfelt condolences to his family and friends.

"The climbing accident occurred in the Lower Gorge of Smith Rock State Park. Chaitanya Sathe fell while down climbing in 4th class terrain to the base of the climbing area. His climbing partner was ahead of him and did not see the accident occur. Two climbers below responded to Chaitanya who was pulseless and not breathing at the base of the cliff where his body came to rest. Chaitanya's bright light and spirit will live on in our hearts…"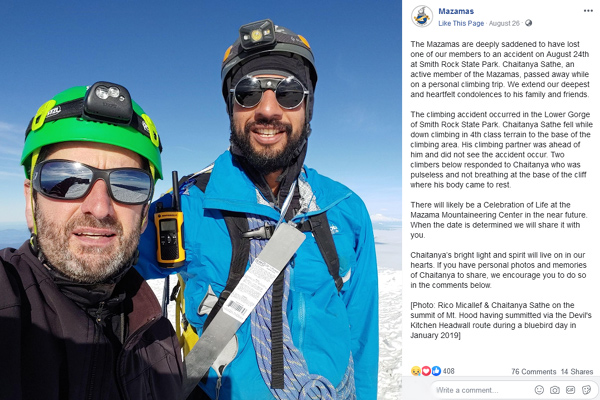 (Image source from: Facebook/@mazamaspdx)
To fund Chaitanya's father's trip to the United States, a GoFundMe campaign was launched to raise money on Tuesday.

By Sowmya Sangam