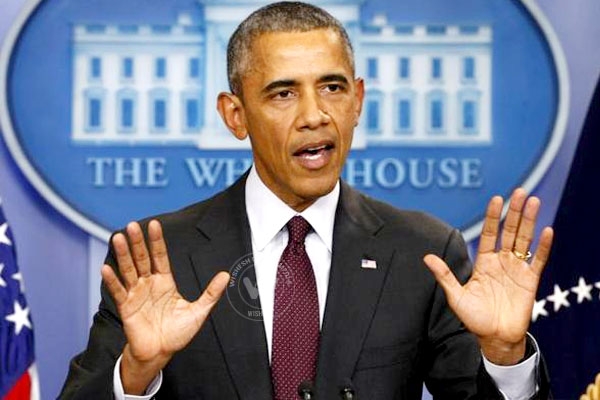 (Image source from: })
US President Barack Obama has made a statement over shootings in Oregon from the White House in Washington. Disgusted by his country's gun violence propensity, the President has called American people to push for gun control laws.
In a most powerful speech, Obama made an open call for voters to do what the American gun lobby and even politicians have failed to do. He asked for pressurization on legislation to keep guns out of the hands of people.
At the White House Omaba, the President said that, "We are not the only country on earth that has people with mental illnesses or want to do harm to other people."
"We are the only advanced country on earth that sees these kinds of mass shootings every few months."
He praised countries like the U.K. and Australia, referring them as "countries like ours", for having come up with "ways to prevent" mass shootings.
"There is a gun for roughly every man, woman and child in America. I hope and pray that I am not going to have come out again during my tenure as President to offer my condolences in these circumstances. But, based on my tenure as President, I can't guarantee that - and that's terrible to say. And it can change," President added, who was visibly frustrated.
"My response here at this podium ends up being routine. The conversation in the aftermath even ends up being routine. We become numb to this. Our thoughts and prayers are not enough. Few month"
The shooting every months in the US are a result of political choice made by Americans and all are collectively answerable to families who lost their loved ones, said the President.
Also read: Gunman Kills 10 People, Injures 20 At Oregon Community College
"When Americans are killed in mine disasters, we work to make mines safer. When Americans are killed in foods and hurricanes, we make communities safer. When roads are unsafe, we fix them to reduce auto facilities; we have seatbelt laws because we know it saves lives. So the notion that gun violence is somehow different, that our freedom and our constitution prohibit any modest regulation of how we use a deadly weapon doesn't make sense."
-Sumana