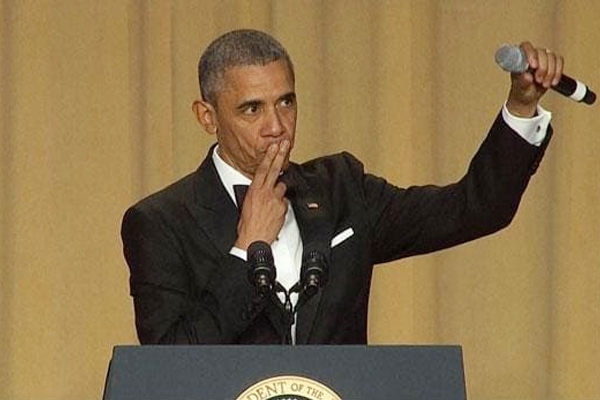 Barack Obama made his last speech as President in Chicago today as he closes the book on his presidency. Chicago is Obama's adoptive hometown, where he has addressed a sold-out crowd, not far away from where he accepted the presidency 8 years ago. In the final speech as president, he also defined what his presidency meant for the America last time. First Lady Michelle Obama, Vice-President Joe Biden and his wife Jill Biden were all present in his farewell speech.
President Obama's trip to Chicago was his last as a president, and his 445th journey aboard the Air Force One.
President Obama said in a Facebook post that Chicago was the place, where it all started for him and his wife Michelle. Chicago was the city that showed them the power and fundamental goodness of the people in this country. And he also added that he is returning to where it all began, to offer his most grateful farewell to the American people, he hope's that everyone will join him, and thanked all for everything they have done.
Barack Obama called on all the Americans to defend their democracy in his last speech.
"By almost all the measure, America is a better and stronger place" than it was eight years ago, President Obama said to thousands of supporters.
But President Obama also warned that democracy is threatened whenever it is taken for granted".
President Obama implored the people of America from all the backgrounds to consider the things from each others point of view, and said that we have to pay attention and listen".
Obama's presidency successor, Donald Trump, has vowed to change some of Mr Obama's signature policies. Donald Trump will be sworn into office on 20th January.
Striking an upbeat tone, President Obama said that the peaceful transfer of power between presidents was a "hallmark" of American democracy.
But, Mr. Obama also outlined three things  which are a threat to America's democracy - economic inequality, racial divisions and the retreat of different segments of society into "bubbles", where opinions are not based on "some common baseline of facts".
President Obama said he was in the city as a young man, " He still trying to figure out who he was, still searching for a purpose in his life", that he "witnesses the power of faith and dignity of working people in the face of struggle and loss".
Over 20,000 people were expected to attend the farewell speech at McCormick Place, which is the largest convention center in the North America and the venue for President Obama's speech after he defeated Mitt Romney in the 2012 Presidential election.
The tickets were given for free, but the tickets were sold online for more than one thousand dollars each.
Presidential farewell speeches have been a long American political tradition.
Former Presidents George W Bush and Bill Clinton delivered their Farewell speech from the White House, while George Bush Senior gave his farewell from the West Point military academy.
As Barack Obama leaves the White House, he is viewed favorably by more than 57% of Americans, according to an Associated Press-NORC Center for Public Affairs Research poll.
Brack Obama chose four Indian-American for highest honors
AMandeep