Junior Doctors' Outcry in India: All You Need to Know About West Bengal Doctors' Strike
June 14, 2019 11:59
(Image source from: Youth Ki Awaaz)
The strike by the junior doctors at NRS Medical College and Hospital in Kolkata has entered the fourth day and consequently, healthcare services across India are likely to be affected as various medical bodies will join doctors' strike today in solidarity with their protesting colleagues in West Bengal.
The doctors have refused to compromise despite warning was issued by West Bengal Chief Minister Mamata Banerjee.
What Actually Happened?
According to a media report, on Monday night, a clash broke out between junior doctors and relatives of a patient at Nil Ratan Sircar Medical College and Hospital after the 75-year-old died due to alleged negligence.
The medical intern was injured in the clash leading to the disruption in regular services at the state-run hospital as the junior doctors began a sit-in, demanding better security for doctors.
At around 11 p.m. on Monday night, the family members of Mohammed Shahid, a resident of Tangra, allegedly assaulted some junior doctors reportedly on grounds of the death of a 75-year-old man. Consequently, a clash broke out, virtually turning the hospital premises into a battleground.
The family members of Shahid were as well angry over a time lag in handing over his body. In that process, junior doctor Paribaha Mukhopadhyay was severely injured including enduring injury in the skull.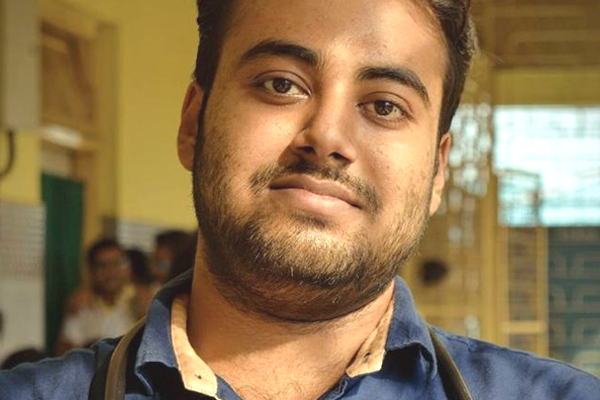 In order to bring the situation under control, a large team of police personnel from Entally police station stepped in and restored to lathi-charge.
More than 50 doctors closed the gates of the medical institution and began a sit-in on Monday night, demanding "protection".
Dr. Pradip Kumar Mitra, the West Bengal Medical Education Department director, visited the hospital and made an effort to persuade the doctors to withdraw their protest, but in vain.
Chandrima Bhattacharya, the Minister of State for Health, who also visited the hospital, was encountered with resistance from the protesters. The protesting junior doctors raised slogans demanding amended security for themselves.
"We are talking to them. We will appreciate if they withdraw their agitation and resume normal work as patients are suffering," the minister said.
Work Stoppage All over India  
In support of their colleagues at the NRS hospital, junior doctors all over the state are staging sit-ins.
The strike will turn into a nationwide protest with various medical bodies set to join the stir today. The Indian Medical Association (IMA) has directed the members of all its state branches to stage protests and wear black badges today. IMA members will send an appeal to the Prime Minister Narendra Modi and Union Home Minister Amit Shah and demand a central Act on violence against doctors and hospitals.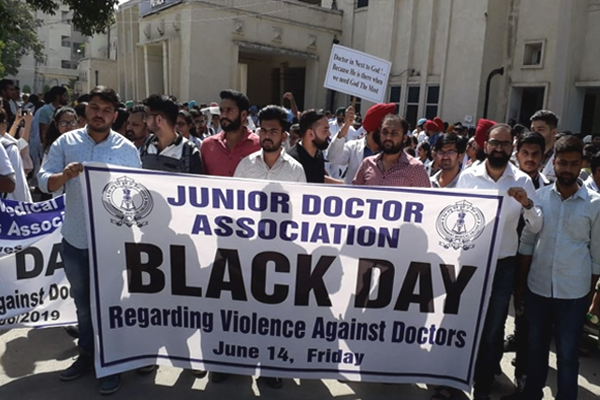 (Image Source: Top Indi News)
"The gruesome incident in NRS Medical College, Kolkata, is of barbaric nature. IMA condemns the violence perpetrated on a young doctor. The entire medical fraternity expresses solidarity with the resident doctors who are on strike. The IMA headquarters hereby declares All India Protest Day on Friday," the IMA had said in a statement.
Resident doctors at the All India Institute of Medical Sciences (AIIMS) in Delhi have said to join the protest and boycott work in order to express solidarity with the agitating doctors in West Bengal. The Delhi Medical Association (DMA) held a meeting of its Emergent State Executive Committee on Thursday and decided to observe a bandh today.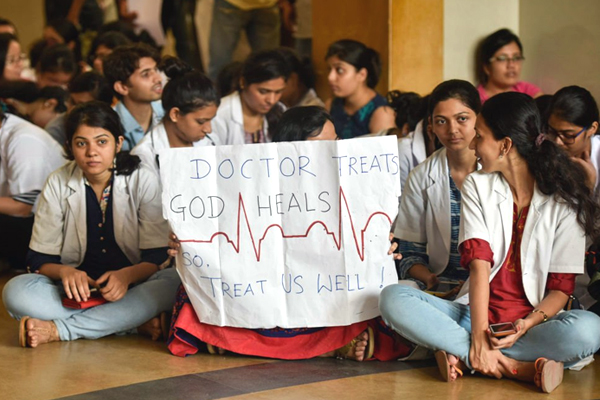 (Image Source: Youth Ki Awaaz)
"It is a call from DMA to all its esteemed members and owners of hospitals, nursing homes and medical establishment in Delhi to keep their establishments closed on 14th June 2019 as it is a Total Medical Bandh, however, emergency services will remain open," Girish Tyagi President, DMA said.
Mamata Banerjee's Statement
Mamata Banerjee has claimed that the security that was in place at hospitals were removed ahead of the elections as a fallout of the shake-up by the Election Commission ahead of the national elections. But the government, she said, had already made arrangements to put it back in place.
During a visit to the state-run SSKM hospital, she also warned doctors who won't return to work. Doctors who don't return to work must leave the hostel, she said. "They are outsiders. The government will not support them in any way," she said. "I condemn doctors who have gone on strike. Policemen die in the line of duty but the police don't go on a strike," she added.  
(Image Source: India Today)
Banerjee has written to the senior doctors of the government-run hospitals, asking them to take care of the patients. "The poor people are coming from all districts. I will be obliged and honored if you please take full care of the hospitals," her letter read.
Violence Against Doctors
In two years (2013 and 2014, there were 32 cases of workplace violence at AIIMS.
Not only India, violence against doctors is becoming the new norm in several other countries, including the United States, the United Kingdom, and China.
A recent survey of more than 3,500 emergency physicians across the United States found that nearly half the doctors had been physically assaulted on the job.
In 2011, a 10-province survey in China found that over half the physicians had been verbally abused, one-third threatened and 3.4 percent physically assaulted by patients over the past 12 months.
In the United Kingdom, apart from enhanced security, some hospitals have training courses in conflict resolution for medical professions.
By Sowmya Sangam