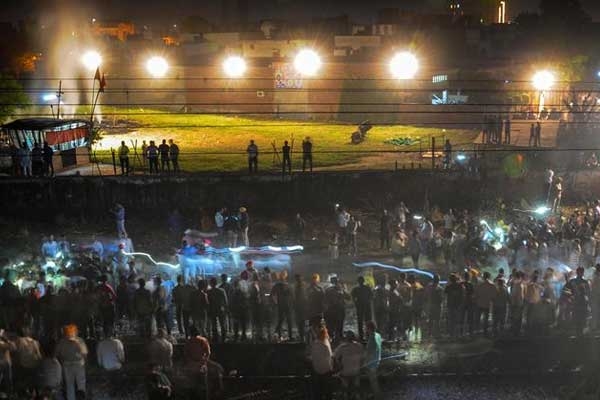 (Image source from: The Indian Express)
In a terrible disaster, at least 61 people watching the Ravan effigy on Friday lost their lives and 72 got injured when a speeding train mowed them down.

The mishap took place near Joda Phatak area of Amritsar where a large number of people were watching the Ravan effigy in flames standing along the railway tracks when the train crushed them, which was coming from Jalandhar to Amritsar.

The victims reportedly could not hear the whistling of the train due to the exploding crackers. Witnesses said the dead included children and there were reportedly about 700 people at the accident spot, according to a report.
#WATCH The moment when the DMU train 74943 stuck people watching Dussehra celebrations in Choura Bazar near #Amritsar (Source:Mobile footage-Unverified) pic.twitter.com/cmX0Tq2pFE

— ANI (@ANI) October 19, 2018

The train was reportedly traveling at a high speed and the gates of an unmanned crossing were reportedly closed.

Area legislator and Local Bodies Minister Navjot Sidhu told a news channel on the telephone from Bengaluru that the death toll was alarmingly high.

Following the tragedy, Chief Minister of Punjab Captain Amarinder Singh took to Twitter to state that he was rushing to the area to supervise the relief and rescue efforts.
Rushing to Amritsar to personally supervise relief & rescue in tragic rail accident on Dussehra in Amritsar. My govt will give Rs 5 lakh to kin of each deceased & free treatment to injured in govt & pvt hospitals. District authorities have been mobilised on war footing.

— Capt.Amarinder Singh (@capt_amarinder) October 19, 2018

Prime Minister Narendra Modi too expressed his sorrow at the accident and stated that the tragedy was heart-wrenching.

"Extremely saddened by the train accident in Amritsar. The tragedy is heart-wrenching. My deepest condolences to the families of those who lost their loved ones and I pray that the injured recover quickly. Have asked officials to provide immediate assistance that is required," he tweeted.

PM Modi announced Rs 2 lakh compensation for the family of the dead and Rs 50,000 for the injured and as well directed officials to provide immediate assistance.

Punjab government has declared state mourning on Saturday in view of the disaster.

The Congress-led government was blamed by opposition parties for permitting Dussehra celebrations near the tracks. The railway officials likewise sought to put the concern on local administration saying that they were not informed regarding any such event.

-Sowmya Sangam