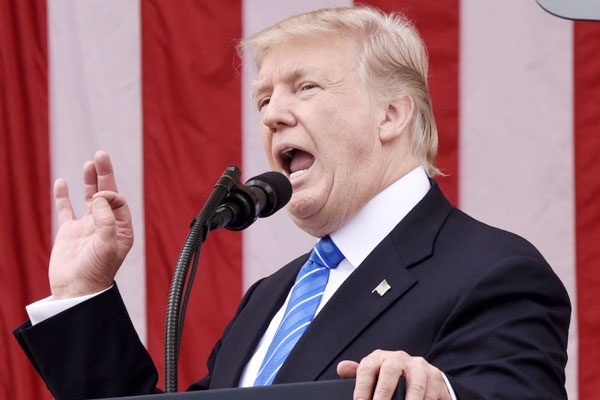 US President Donald Trump slams India with harsh words during a speech, justifying the United States step back from the Paris climate deal. President's harsh words are within the boundary with his aggressive, pro-America jobs stance, and also he likely does not care two hoots of the fact that America to be clubbed with Syria and Nicaragua, as these three countries in the world have no obligations to control the green house emissions, it is picking out India with some unfair comments which portend tougher negotiations on the trade and immigration issues in the coming future.
"India makes its participation contingent on receiving billions and billions and billions of dollars in foreign aid from developed countries," President Trump said in his 27-minute speech in the White House Rose Garden.
Trump has his focus on the coal production capabilities of India and China, which according to Trump, is not restricted by the Paris deal, unlike the US, which was hampered, affecting the jobs.
However, the fact is that, experts consider US as the largest green house emitter in the world. US and China are responsible for some 40 percent of the world's green house emissions, but India accounts for only 4.1 percent of the global emissions.
India will be allowed to double its coal production by the year 2020, and China will be allowed to build hundreds of the additional coal plants, argued Trump.
"Think of it: India can double their coal production. We're supposed to get rid of ours. Compliance with the terms of the Paris Accord and the onerous energy restrictions it has placed on the US could cost America as much as 2.7 million lost jobs by 2025. In short, the agreement doesn't eliminate coal jobs, it just transfers those jobs out of America and ships them to foreign countries," Trump Said.
Trump also added that, "I was elected to represent the citizens of Pittsburgh, not Paris."
One can only be surprised as to why President Trump has singled out India for unloading his anger on the Paris deal. Is it that Trump got miffed by the Modi's recent visit to Germany on the heels of Angela Merkel, ridiculed Trump said that the US is no longer a reliable ally of the European Union.
Does Trump want to send a signal to Modi that US will not tolerate the negotiations where they do not get a 'good' deal?
Whatever may be the Trump's intention, the fact is that Modi is expected to meet Donald Trump at the White House later in this month. Thrashing out by US President on the aid to India and coal production is bound to have greater implications than his past declarations on the trade imbalance and immigration issues.
One thing granted is that, Modi will surely have a tightrope to walk while dealing with Trump. If Trump comes out strong against India, and he does not give a fitting or strong enough reply, then he may find himself in the same weak position that the beleaguered Mexican President Enrique Pena Nieto found himself in, floundered in the domestic ratings after Trump trashed him and also Mexico on the border wall.
Modi replied after Trump's declaration to pull out of the Paris deal: "Paris or no Paris, it is our conviction that we have no right to snatch from our future generation their right to have a clean and beautiful earth."
India, Russia Signed Nuclear Power Deal
Mrudula Duddempudi.