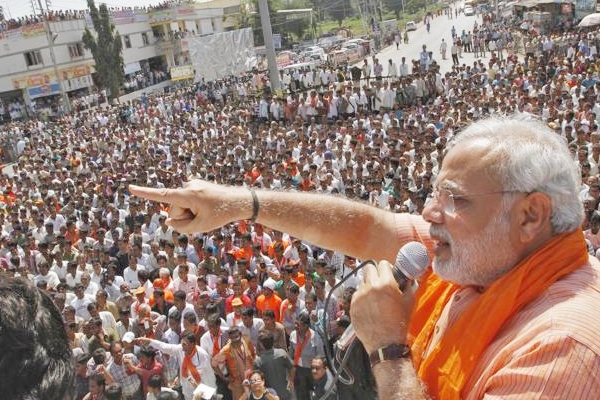 Call it 'Modi effect' or 'Safforn wave', it is crystal clear that the BJP's victory in UP shows that the Prime Minister's magic continues in the state. It all started in 2014 Lok Sabha elections, when the BJP along with its ally Apna Dal won astonishing 73 seats out of 80 seats.
BJP did not project a chief ministerial candidate, yet. This speaks a lot about the popularity of Narendra Modi, as it was a state election and Akhilesh was the most preferred chief ministerial candidate, according to major surveys.
Most people today, after definitive leads came in started praising a 'Modi win' in UP.
New channel Aaj Tak and Today's Chanakya predicted a BJP sweep in the exit poll. But, most others said that the results would be too close to call.
In the end, BJP just bemused everyone and had the last laugh.
Not just UP. But, BJP also swept away the neighboring state Uttarakhand. While, Goa and Manipur is a close tie.
Congress took over Punjab, as Rahul Gandi, who was busy with Uttar Pradesh elections.
The seat tally of the five states at 4:30 PM is as below
Uttar Pradesh - 403
BJP: 322
SP+Congress: 57
BSP: 20
Others: 4
Uttarakhand - 70
BJP: 57
Congress: 11
Others: 2
Goa - 40
BJP: 13
Congress: 16
AAP: 0
Others: 10
Manipur - 60
BJP: 21
Congress: 24
TC: 1
Others: 10
Punjab - 117
Congress: 78
SAD+BJP: 17
AAP: 20
Others: 2
AMandeep