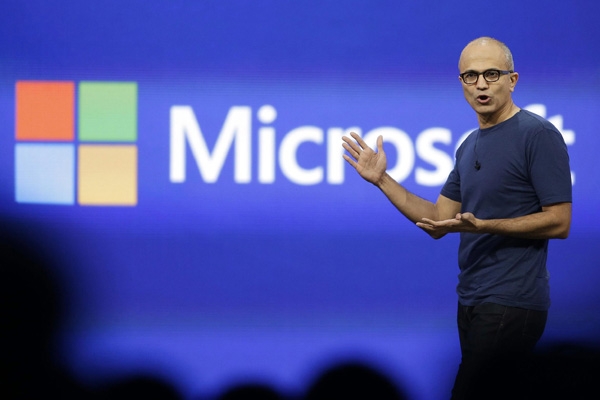 Microsoft CEO Satya Nadella in his speech today announced several new products specially designed for Indian consumers. The new products will also be made in the Country as the company is trying to go away beyond its traditional Windows and Office and build a broader for the audience in India.
The Company is aiming to launch its lighter version of video and voice calling app 'Skype' to cater to the mass of Indians, who own mid-range and low-end smart phones.
The new Skype Lite application will be built with the help of Microsoft's development center in Hyderabad. The app is at least partly an attempt to challenge the popular Facebook and Whatsapp messenger apps.
The new Skype Lite will only occupy over a third of the storage space of its original version, it will also consume less data and has a feature which is not yet available in the richer version.
Skype Lite needs just 13mb of storage space, when compared to 36 MB of the regular version. The app can automatically detect, if it's running on cellular network or Wi-Fi. The app compresses photos. Unlike rival WhatsApp photos shared will be saved within cloud service. That will save a lot of data.
The app can also integrate with mobile calling and SMS to check Skype calls, message and contact together.
The app will also be available in seven Indian languages.
There are millions of Skype users in India and most markets people use multiple communication apps. "Lots of people will continue to use WhatsApp, and also Facebook Messenger and Snapchat," he said.
In the beginning Skype was used vastly by Indians to do International video calling, especially for parents to communicate with children overseas. But, today other services like Hangouts and Whatsapp have taken over Skype, especially with communication moving to mobile.
Skype was launched 14 years ago for the PC with high speed internet connections. But now it is mostly used on smart phones.
Microsoft has also developed a skilling-cum-job-search/hiring platform for low-skilled people in India. Called Sangam, the platform combines Microsoft's cloud, video and other technologies with LinkedIn's assets.
The app is an open platform that will allow any content provider to offer their courses over the cloud. A training aspirant can go through all the options available and chose the one they want.
When someone joins, the system will create a LinkedIn-type profile that will be updated appropriately as the candidate enhances their skills.
The companies searching to hire can upload their requirements. Then Sangam will match these requirements with those of trained personnel and offer options on both sides.
Germany opens honorary consulate office in Hyderabad
AMandeep