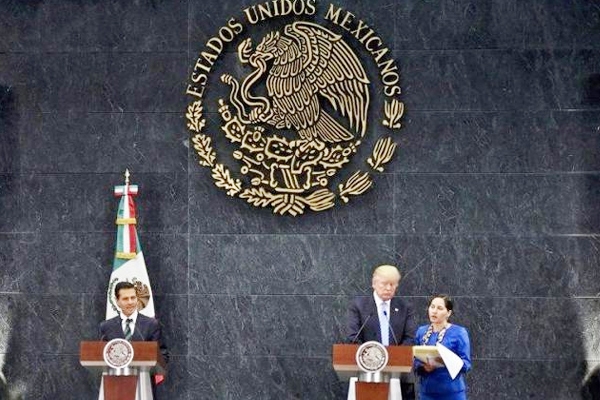 The Republican presidential candidate Donald Trump says, he discussed the wall with the Mexican President during his visit to Mexico, but the controversy stirred, when he claim of not having discussed who would pay for it was disputed by the Mexican President Enrique Peña Nieto.
The New York billionaire said at a joint news conference with Mr. Nieto after the meeting between the two leaders, that, "We did discuss the wall. We didn't discuss payment of the wall. That'll be for a later date. This was a very preliminary meeting."
Mr. Nieto tweeted, "At the start of the conversation with Donald Trump, I made it clear that Mexico will not pay for the wall."
"We recognize and respect the right of either country to build a physical barrier or wall on any of its borders to stop the illegal movement of people, drugs and weapons. Cooperation toward achieving the shared objective to both the United States and to Mexico," Trump said.
The Mexican president said that, Mexicans had been hurt by some of the Republican's comments but said he believed he now genuinely wanted to build relations.
"That there has been a misinterpretation or assertions that regrettably had hurt and has affected Mexicans and it's perception of his candidacy of which I am fully respectful," he said.
"Mexican people have felt hurt by the comments that have been made. But I am sure that his genuine interest is to build a relationship that will give both of our society's better welfare," Mr. Nieto said.
The U.S. and Mexico share a 2,000-mile border and a half a trillion dollars in annual trade.
Also Read: Donald Trump to visit Mexico, meet its President!
Nandini