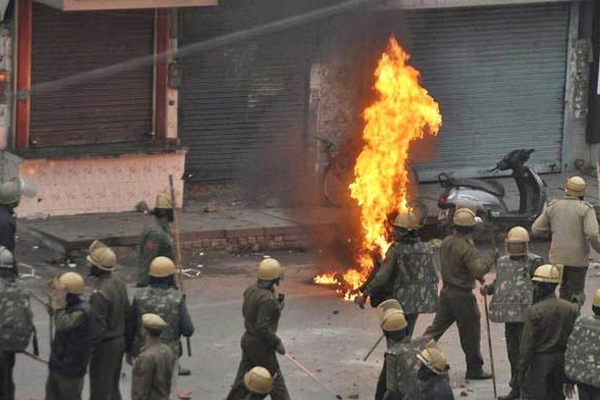 (Image source from: Army conducts flag march)
Violence in Haryana continued, with Jat agitators disrupting traffic and setting fire to a railway office, the army used helicopters to reach parts of Rohtak that remain tense even after a curfew was imposed overnight. The Army conducted a flag march in the most tense neighbourhoods and shoot at sight orders are imposed after one person died and 25 were injured.
Yashpal Malik, national president of the All India Jat Aarakshan Sangharsh Samiti, had threatened to intensify the agitation in other parts of the state, including Panchkula and Yamunanagar, stating that the government is trying to "fool" the Jat community.
"There is no solid offer made by the Haryana government. The government should first bring an ordinance and then bring a bill in the Haryana Vidhan Sabha for giving reservation to Jats. If the government does it, then it will be acceptable to us," Malik said.
"Only Haryana CM has problem in giving reservation to Jats. Rest of leaders in BJP are in favour of giving reservation," he added, accusing Manohar Lal Khattar of "castiest mentality".
"Khattar has jatiwadi mansikta (casteist mentality) because he is not a Jat. He is trying to prove himself as a leader of non-Jat people in the state by way of not giving reservation to Jats as was done by former Haryana CM Bhajan Lal in the past. His (Khattar) stand is against party line. The problem in Haryana today arose because of his mentality," Malik said.
Some of Gurgaon's roads and other major highways have also been blocked by protesters. Train services have been badly hit as many passenger trains going from Delhi to Haryana, Rajasthan, Punjab and Jammu have been cancelled. "Around 150 trains have been cancelled, some trains have been short-terminated," Neeraj Sharma, PRO Northern Railway, said.
Jats are agitating for quotas in jobs and want to be counted as a part of Other Backward Classes, a section that has a 27% quotas in government jobs. Agitators continued to block roads and rail routes, affecting the supply of essential commodities to Rohtak, Jind, Bhiwani and other parts of Haryana.
By Premji