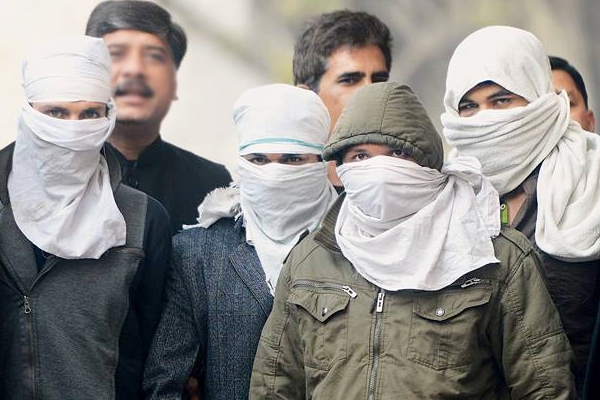 (Image source from: Islamic state Terror plot to attack Kumbh Mela foiled})
Four youths who are members of Islamic state, with suspected terror links, who were allegedly conspiring to strike in the Kumbh Mela, were held by a joint team of Delhi Police Special Cell and Uttarakhand police last night from Manglour town in Haridwar district. Vigilance has been heightened at the ongoing Ardh Kumbh Mela and security is beefed up around vital installations in the district, after four youths with suspected terror links were nabbed, police said.
Security around sensitive and crowded spots, including Hari Ki Pauri has been tightened, Inspector General of Police G S Martolia, in charge of the security for the Mela, said. IG Martolia said that all vehicles coming to Haridwar, besides hotels and lodges in the district are being checked to keep a tab on dubious people.
Bomb disposal squads and intelligence personnel are maintaining a constant vigil in the Mela area and all intelligence inputs received are being analysed, he said. "After collecting the information about key locations of Haridwar, the four were planning to purchase materials required for terror activity," said IG Garhwal Sanjay Gunjyal.
The arrested four members of the Islamic State (ISIS) aged 19-23, were in touch with the handlers in Syria and Iraq and were planning a terrorist attack ahead of Republic Day at targets such as the Ardh Kumbh in Haridwar and prominent shopping malls of Delhi-NCR like Select Citywalk, Saket; DLF Promenade, Vasant Kunj and the Great India Place in Noida.
The arrests confirmed the presence of ISIS in India for the first time. The ISIS cell members were close to preparing IEDs and procuring weapons on the instruction of handlers with whom they were in touch with over VOIP, WhatsApp and Facebook.
In the arrested four, Akhlaq ur Rehman is a third-year engineering student at a polytechnic college in Roorkee area. Mohammed Osama and Ajiz are doing BA from a local college, while Mehraj is pursuing a bachelors in Ayurvedic medicine. Akhlaq is a resident of Bhagwanpur Chandanpur village, Azim and Mehraj belong to Landhura. Osama is a native of Jarosa of Haridwar district.
"The four suspects were tracked down with inputs from a central intelligence agency. They had planned to carry out terror attacks at the Ardh Kumbh mela, trains heading towards Haridwar passing through Roorkie and some strategic locations in Delhi," Arvind Deep, Special Commissioner, Special Cell said.
"We have arrested the accused on January 19. It is too early to comment about which organisation they are from. However what we can say at this point is that Central Intelligence Agencies had received credible input about the possible attacks," said Arvind Deep, Special Commissioner, Special Cell.
Kamrul Hassan, an engineer by profession, the elder brother of Akhlaq, said, "This is a shock to the entire family. My brother is innocent and wants to be an engineer like me. In fact the last time I saw him was when he was going to give his examination. I had wished him luck and paid him some travel money. In the afternoon I came to know that he has been arrested. Our family is really worried".
By Premji