(Image source from: Microsoft buys off Nokia})
This week is slowly turning out to be a week of historical buyouts!
Just a couple of hours ago, we reported the news of Verizon buying stakes in Vodafone wireless. Close to its heels, comes the news of yet another major acquisition.
In what can be said to be a really, really momentous buy out in the history of technology, Microsoft Corp  bought the Finnish mobile giant — Nokia for an astronomical 5.44 billion euros.
Once the undisputed leader in mobile phones, Nokia has been struggling to find its feet ever since smartphone majors like Apple and Samsung sprang into the business.
Nokia's CEO  Stephen Elop, would join Microsoft after the deal is over.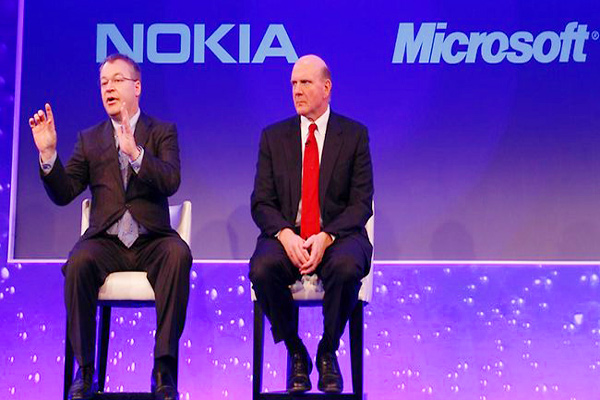 The transaction is likely to close in the first quarter of 2014 after it is approved by all Nokia's shareholders and regulatory approvals. Nokia partnered with Microsoft in 2011 and uses Microsoft's Windows software to run its smartphones.
"It's a bold step into the future - a win-win for employees, shareholders and consumers of both companies," Microsoft's outgoing CEO, Steve Ballmer, said in a statement.
"Bringing these great teams together will accelerate Microsoft's share and profits in phones, and strengthen the overall opportunities for both Microsoft and our partners across our entire family of devices and services."
Nokia said in a statement it expected that Elop, along with senior executives Jo Harlow, Juha Putkiranta, Timo Toikkanen, and Chris Weber, would transfer to Microsoft when the deal was concluded. It however, didn't specify any roles for the top dogs.
This strategic decision comes after Steve Ballmer revealed his intention to step down from the top seat of Microsoft, citing "bold strategies" in store for Microsoft.
AW: Suchorita Dutta