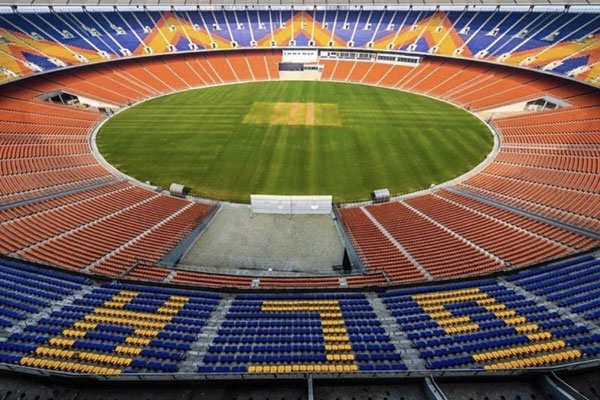 (Image source from: twitter.com/@SGanguly99)
During the third Test Match in the ongoing series, both players, crew and fans have been admiring the Ahmedabad Motera stadium, which is one of the world's largest cricket stadium. Both England and India have one a Test each out of the four match series.
The stadium had been inaugurated by Indian President Ram Nath Kovind and the Home Minister Amit Shah and named the stadium after India's Prime Minister, Narendra Modi. The stadium can seat around 1,10,000 spectators. However, due to the rising pandemic in India, the stadium is only accomodating 55,000 fans.
The stadium is hosting the day-night pink ball Test which began on Wednesday, is the first ever international match to be hosted at the stadium, since November 2015, when the stadium was demolished and reconstructed.
Cricket players, coaches and fans have been sharing pictures on social media, appreciating and praising the new stadium and its facilities.
The stadium spreads across 63 acres and has four entry points. The stadium comprises of multiple dressing rooms, indoor practice pitches, outdoor pitches and even a dormitory which can accommodate 40 athletes at once, leisurely. There is even space in the stadium for coaches, physiotherapists and trainers.
The stadium cost 110 $ Million Dollars, which is 8 billion rupees to construct. The firm that constructed this stadium is the same firm which built the statue of unity, the 182m bronze statue of Vallabhbhai Patel in Gujarat. The entire stadium is water resistant and can withhold any temperature. There are special LED lights placed all over the stadium.
In 2020, the stadium hosted United States' former President Donald Trump when he was on his first trip to India in February. During his visit to the stadium, he addressed more than 1 lakh people who were present at the stadium, with India's Prime Minister, Narendra Modi by his side.
Fans and spectators at the stadium ave been posting numerous photos of the stadium on social media and even satellite views on the stadium, from Google ave been trending on the internet.
By Meena Atmakuri