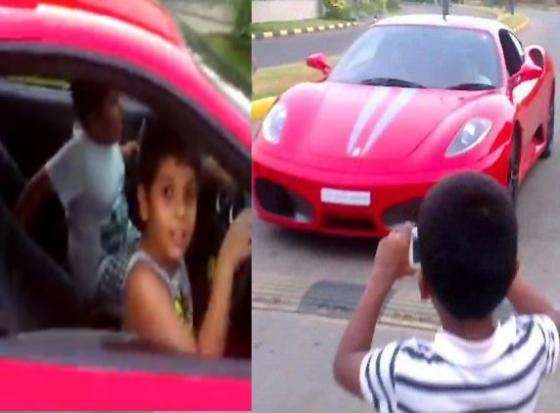 An NRI businessman never knew he would invite troubles from the police for posting the video of his nine-year-old son driving a luxurious sports car, Ferrari F430.  Mohammed Nishan, the man in the news apparently visited his home town Kerala recently to celebrate the birthday of his son on his home land. He gifted his son Ferrari F430 car and captured the video when his drove the vehicle. This video was posted by him to Facebook.
All this happened in Peramangalam. While the parents were pride about the driving skills of their son, the police who had a glimpse of the video charged Mohammed Nishan under various acts including Motor Vehicles Act for the irresponsible behavior. Since the accused was an NRI, the police couldn't take him into the custody. The matter is now prejudice.
Parents should make their children learn morals of life no matter even if they are born with silver spoons as everyone should leave their silver spoons down in earth when they take the unseen flights to unknown destinations! A rich is a person who has high morals and he would be the one who would be remembered forever.  Don't know when rich parents will realize the same!
(AW Phani)