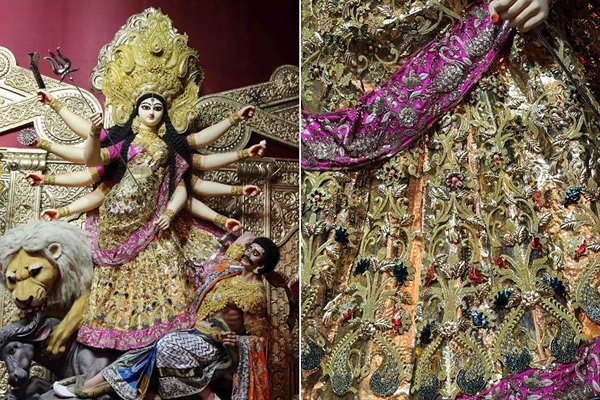 (Image source from: Indianexpress.com)
Durga Puja is one of the biggest celebrations in Kolkata. Kolkata city celebrates this festival with great grandeur. The most beautiful sight of this Durga Puja Season is at Buckingham Palace Replica in North Kolkata.
All the idols at this pandal are wearing haute couture by Agnimitra Paul for Club's 82nd celebrations. Ma Durga's idol has adorned a sari made of pure 22kg gold. Artisans from Bengal have crafted this beautiful sari with spectacular embroidery of floral motifs, butterflies, birds, and a giant peacock.
Sari is also studded with gemstones; there is minakaari work as well on the sari. Over 21/2 months 50 artisans have worked tirelessly to execute this spectacular outfit. This sari is of around 6.5 Crores Worth.
Pradip Ghosh, president of the puja committee said that they wanted to do something beautiful and unique this year that's when his son and general secretary sajal gosh, suggested this idea.