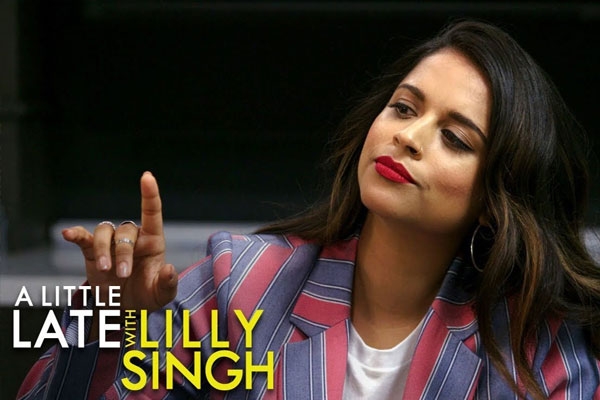 (Image source from: News18.com)
YouTube star and comedian Lilly Singh on Monday became the first woman of Indian origin to host her own television show 'A Little Late With Lilly Singh' on NBC.

The comedian started her very first episode of the show with an apt rap and a monologue that highlighted her bisexuality and women of color.

Her guests for the night were 'The Mindy Project' star Mindy Kaling, who is also an Indian origin and Singh's 'The Office' co-star Rainn Wilson.
Singh breaks several stereotypes in the show including frigid work-spaces for women, breastfeeding rooms, hiring across races, more women representation. She sums it up by saying, "It's not because I had to, it's because I could."

The video`s comment section was flooded fans showering her with love for the amazing feat with wishing Lilly on the huge milestone.

Canadian Prime Minister Justin Trudeau also wished her luck before her new venture by writing:
Good luck tonight, @Lilly! We`ll be watching from north of the border.
Good luck tonight, @Lilly! We'll be watching from north of the border. #LateWithLilly https://t.co/974utZ1Ngm

— Justin Trudeau (@JustinTrudeau) September 17, 2019
Other stars like Zoe Kravitz, Terry Crews, and Jacqueline Fernandez also wished Lilly on her new project.

A native of Ontario, Lilly's parents hail from Punjab in India. She graduated from York University in Toronto. She started her YouTube channel in 2010 and is well-known for her famous YouTube character, iiSuperwomanii. She earned fame with videos on 'Punjabi mothers.' Actors Priyanka Chopra and Dwanye Johnson and even Michelle Obama have appeared on her channel.

Singh has been very vocal about racism, and discrimination. In one of her first-ever videos, she justifies why it's important to have a brown Miss America.

Lilly paid a visit to Indian state Mumbai in 2014 for YouTube FanFest and then again in 2017 on a multiple city tour. She was again in India in the same year to promote her 'How to be a Bawse'. At that time she visited Mumbai, Hyderabad, and New Delhi.

Lilly has also appeared in films including 'Ice Age: Collision Course' and 'Bad Moms'. She is also a UNICEF (United Nations International Children's Emergency Fund) Goodwill Ambassador.

With 'A Little Late With Lilly Singh', Lilly becomes the first openly bisexual woman to host a late-night talk show on television.

By Sowmya Sangam