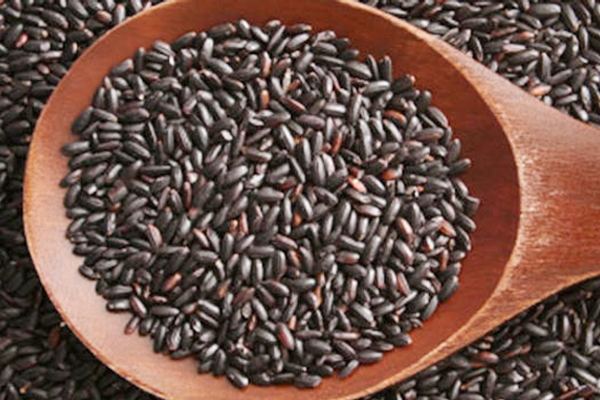 (Image source from: Tips for cooking black rice })
Black rice is also known as longevity rice and purple rice. It is a range of rice types of the species Oryza sativa L., some of which are glutinous rice. Some cautions and tips are useful if you want make black rice a part of your diet. Here are few.
-    Remember it takes long time for black rice to cook compared to white rice.
-    You can cut down cooking time of black rice by soaking overnight or enough time before you begin to cook.
-    People also cook a batch well in advance, refrigerate for many days and use in varied dishes all through the week.
-    The darker the rice the better it is.
-    But the black color can possibly stain clothes while cooking.
-    Select good rice variety based on your recipe. There are many black rice varieties.
-    Black rice varieties include jasmine, the short-grained version, and glutinous Thai.
-    The true 'forbidden rice' is the long-grain rice.
-    Long-grain rice is good for salads.
-    For European recipes, go for the short-grained rice.
-    The glutinous Thai rice is great for sushi and rice pudding, as it gets cooked much like glutinous white rice.
-    Few may find the taste a bit too earthy.
-    To improve the taste, blend the rice kernels into a powder and sprinkle on dishes like salads, meat and fish dishes, add dry spices to the powder and make dry chutney.
-    To begin with, prepare in small proportions.
-    Gradually add to meals, until you get adjusted to taste.
-  Sumana