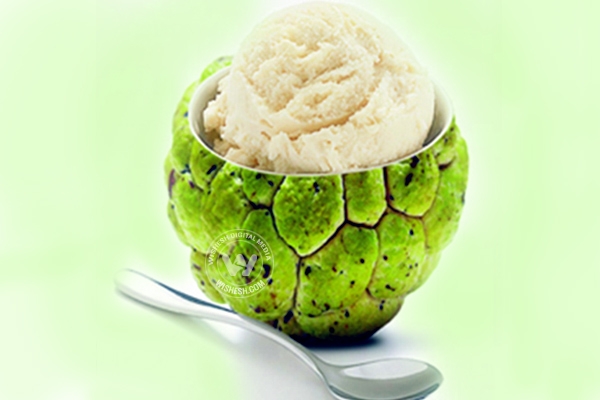 (Image source from: Yummy custard apple ice cream})
The season of custard apple almost began in India and it's a feast for all custard apple lovers. Instead of consuming it as it is try this amazing recipe of custard apple ice cream. It is unbelievably tasty. You will relish its amazing taste and accept that it is better than eating the fruit itself.
Ingredients required for custard apple ice cream
Custard apples: 6 to 8 large
Milk: 2 liters
Sugar: 2.5 cups
Condensed milk: 200 grams or 225 grams cream
Preparation method of custard apple ice cream
1. Separate the fruit from the seeds.
2. Keep aside half meat of the fruit and blend the remaining half in a mixer until you obtain smooth consistency.
3. Now mix all the ingredients and the left out meat.
4. Prepare the ice-cream in an ice cream churner.
You can use a hand churner or electric churner. Churning will give a light texture as it incorporates air. Now you can store the churned ice cream in the refrigerator in a plastic box or a vessel covered with a polythene cover. By this you can avoid the formation of ice crystals. Is it not a great way to take it in the beautiful season this time? Try this out to surprise your dear ones.
- Sumana