(Image source from: Spread sweetness with watermelon fruit leather )
We have all had "aam-papads" or "amavats", a mango leather made of mango pulp and concentrated sugar solution and sun-dried. But today, we bring you a watermelon version of the same chewy, juicy, flavorful treat. That's right! Watermelon fruit leather, as it is called as, is fun to make and lip-smacking to eat. Great for lunches or snacks, today we tell you how to make this sweet treat at home using just two ingredients. Right again! Check out the recipe.
Watermelon Fruit Leather Ingredients
10 Cups Diced Watermelon
3/4 Cup Sugar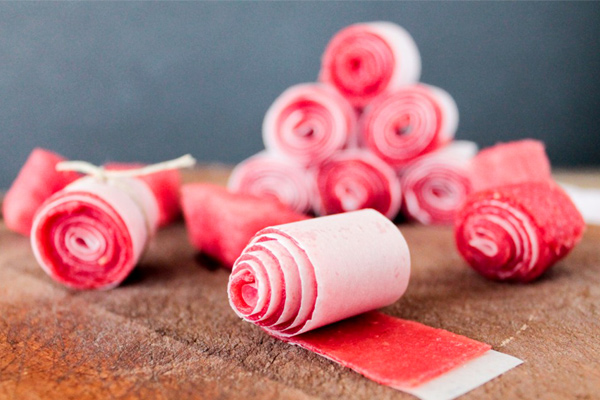 Watermelon Fruit Leather Recipe
Preheat the oven to the lowest temperature. Once done, line it with a baking sheet with plastic wrap.
Next, blend watermelon in a food processor and strain the excess liquid from the pulp using a colander.
Once the liquid is removed, blend the puree again, this time with sugar. Strain any excess liquid.
Now evenly spread the watermelon puree on baking sheet using a spatula until it is 1/4 inch thick.
Bake the Watermelon Fruit Leathers for 6-8 hours, rotating the pan every hour.(If your finger doesn't leave an impression when touching it, than it is done baking.)
Allow it to completely before removing the Watermelon Fruit Leather from the baking sheet.
Carefully pull the plastic wrap/fruit leather off the baking sheet and flip it onto a piece of parchment paper and cut into long strips. Store in airtight container in a refrigerator.
AW: Suchorita Choudhury