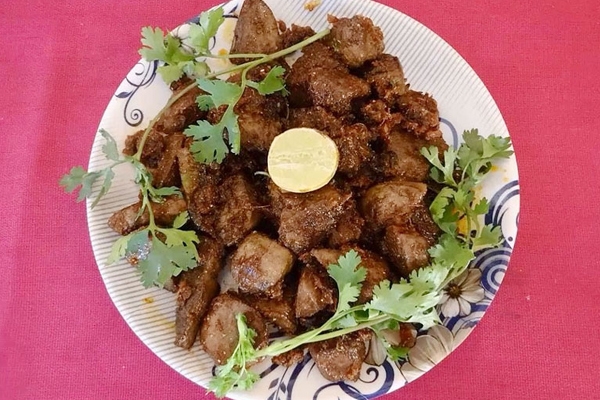 Mutton liver fry is a healthy dish, as the lamb liver is very good for health, it is rich in vitamin A and includes a high quality of protein content. It also helps to improve hemoglobin levels in the blood.
The Mutton liver fry recipe is quite simple, healthy and delicious that one cannot stop to have more. It goes well with both roti and rice. The recipe is cooked in less amount of spices, see the preparation method here.
Ingredients
Mutton liver: 250 gm
Oil: 1 tbsp
Onions finely sliced:3
Salt :to taste
Red chili powder: 1 tsp
Turmeric powder:1/4 tsp
Black pepper powder:1 tsp
cup Water:1/2
Coriander leaves:1 tbsp
Directions
In a pressure cooker, add oil and heat it on a medium flame.
Add sliced onions and cook till it changes brown in color.
Add mutton liver into it and roast well until it changes color.
Add salt as per taste, add red chili powder, turmeric powder and mix well.
Add little quantity of water and pressure cook for about 5-6 whistles.
Reduce the steam, add black pepper powder and coriander leaves.
Saute it for about two minutes on a low flame.
Finally, mutton liver fry is ready to serve and garnish with Coriander leaves, squeeze lemon over it.