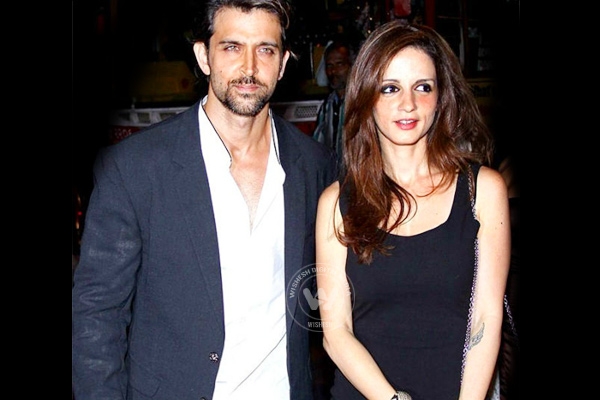 (Image source from: Hrithik)
The biggest price a celebrity has to pay for being in the limelight is give up on his privacy. And who knows it better than our very own Bollywood stars. With media and social media constantly trespassing their 'private' territories, nothing remains off the record for long.
For instance, take Hrithik Roshan and Sussanne's divorce. Recently, media went berserk reporting stories of what they touted as Bollywood's priciest divorce so far, citing Susanne has demanded a whopping alimony of Rs 400 crore from Hrithik Roshan.
And even while Hrithik trashed the reports as "false" and "demeaning", the social media couldn't resist taking a dig at their personal crisis. So much for being a star! Here are some of the trending Hrithik-Sussanne alimony jokes that are doing rounds on the social media.
It's Divorce for #Suzanne and Die-Worse for #Hrithik.
#Alia Bhatt doesn't asks for a share from Suzzane #Roshan just b'coz it is ALI-mony! #400Crore
Salman made kick.. Will earn 200 cr Suzanne gave divorce..will get 400 cr Salman-0 Suzanne-1
Suzanne to get 400cr? That's Hrithikulous.
FINALLY, so happy for Zayed Khan & Fardeen Khan. Not jobless anymore!Can spend rest of their life counting 400Cr tht Suzanne brings home.
Suzanne demands 400cr alimony. Somewhere, Harman Baweja is happy that he is not Hrithik Roshan.
Poor Hrithik. When he went for his honeymoon, little did he realise that one day, his marriage would cost him the Moon mission.
Suzanne has demanded an alimony of 400cr only? Not sure if its enough to revive Zayed Khan's career.
What? Hrithik is giving Rs 400 cr to Suzanne? And he did not give me my Rs 350 back for watching Kites
Suzanne asks for 400 crores in alimony. Narendra Modi would say, our Mars mission has cost less than their divorce.
Can understand Suzanne asking for #400Cr as Alimony. After all she did let Hrithik Roshan kiss Aishwarya Rai, Barbara Mori and Katrina Kaif.
Suzanne Khan went out for grocery shopping. Checked out tomato price. Came back & demanded Rs. 400 crores in alimony.
Even Shahjahan Didn't spend 400 Crore on Taj Mahal.
Suzanne has demanded 400cr alimony from Hritik, make her brand ambassador of "How to become a billionaire by doing nothing".
After Hritik Suzanne case,,. Salman : Salla issiliye to me shaadi ni karta hu.
Earlier Women were jealous of Suzanne coz she married Hrithik, Now they are jealous of Suzanne coz she divorced Hrithik.
Suzanne rules the box office without any movie release move over khans, kumars and devgn what a blockbuster demand now finally India arrived.
Source: TOI
AW: Suchorita Choudhury