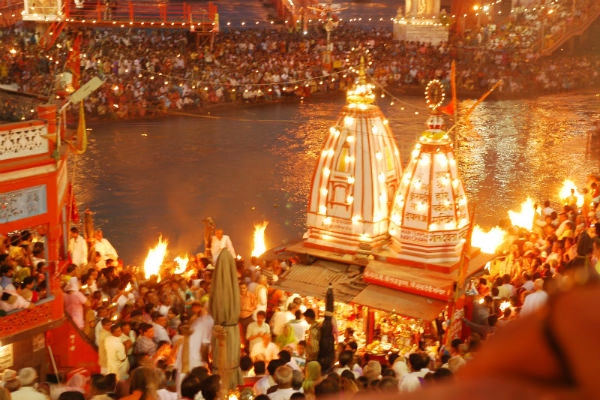 The holy Simhastha or Kumbh Mela 2016 is being organized at Ujjain from 22 April 2016 to 21 May 2016. The  Shahi Snan ritual would happen on 22 April 2016 on the full moon as per lunar calender. Approximately fifty million devotees from all through the country and abroad are expected to attend the festival on the auspicious day to embrace their soul and body. Pilgrims are likely to visit the temple of Lord Mahakaal. They take holy dip in Holy Kshipra river. Sadhus of various sects from all through India assemble in Ujjain. They mingle with ordinary people as they take their ritual dip in the holy waters of the Kshipra during Simhastha Kumbh
Ujjain Kumbh Mela Dates
| | | |
| --- | --- | --- |
| Date | Day | Ocassion |
| 22-Apr-16 | Friday (Purnima) | Shahi Snaan |
| 3-May-16 | Tuesday | Kumbh Snan |
| 6-May-16 | Friday | Kumbh Snan |
| 9-May-16 | Monday | Kumbh Snan |
| 11-May-16 | Wednesday | Kumbh Snan |
| 15-May-16 | Sunday | Kumbh Snan |
| 17-May-16 | Tuesday | Kumbh Snan |
| 19-May-16 | Thursday | Kumbh Snan |
| 20-May-16 | Friday | Kumbh Snan |
| Shahi Snan | Shahi Snan | Shahi Snan |
The pious panchkroshi yatra will be held from 1st to 6th may 2016.
Festival Duration:- 30 days (22-4-2016 to 21-5-2016).
Tentative Area:- 3000+ hectares.
Entire area is divided into 6 Zones and 22 Sectors.   
Mahakaal Zone
 Dutta Akhara Zone
 Mangalnath Zone
 Kal Bhairav Zone
 Triveni Zone
 Chamunda Mata Zone
Following of the 6 Yogs are available on  21-5-2016.
 Vaishakh Maas.
 Shukla Paksha
Simha's Guru
 Tula's Chandra
 Purnima Tithi
 Kushasthali – Ujjain Tirth
Following of the 4 Yogs are not available at Vaishakh Purnima.
 Sun in Aries.
Swati Nakshtra.
 Vyati-pati Yog.
Monday
In one month duration of "Simhasth Kumbh Mahaparv" different "Yog" is available.
Sun in Aries from 21st April to 21st May 2016.
 Swati nakshtra is on 20th May 2016.
 Vyati-pati Yog is on 19th May.
 Monday
During "Simhasth Kumbh Mahaparv", Mondays will be as follows-
25th April 2016
02nd May 2016
09th May 2016
16th May 2016
Significance of  Kumbh Mela
Dating back to the Vedic times, the  genesis of Kumbh is associated with the legend "Sagar Manthan" i.e.. the churning of the ocean. Kumbh Mela is celebrated every twelve years. Based on the position of the Sun and Jupiter in different zodiac signs, the Kumbh Mela is held at the four sacred places.
Once in every 12 years, Poorna Kumbh is held at Ujjain. It is the time when the zodiac sign Scorpio i.e. Vrishchik Rashi indicates the presence of Jupiter and Sun. Located at the bank of Kshipra River, Ujjain is a city in the western region of Madhya Pradesh. The city is one of the most sacred places in India due the presence of many religious shrines like Mahakaleshwar, Bade Ganeshji Ka Mandir, Vikram Kirti Temple and others. Since times immemorial, Ujjain has been a source of inspiration to ancient Indian poets, sages, scholars,  dramatists and  social commentators. The city has even nurtured literary, cultural, educational and vedic institutions.
The revered Indian occasion. Kumbh Mela traditionally offered platform to thinkers and religious leaders to get into dialogue concerning spiritual and temporal matters, which are in relevance with contemporary times.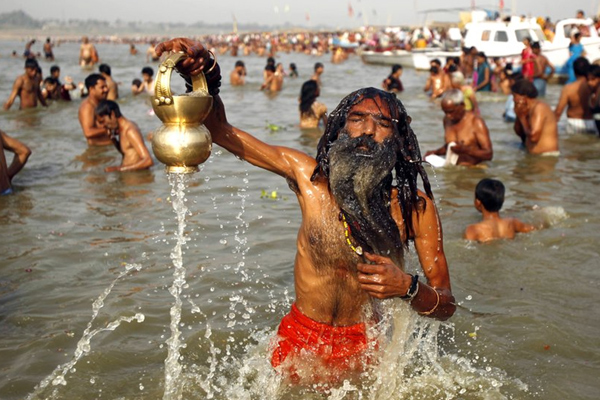 International Convention at Ujjain
The  Government of Madhya Pradesh has recognized the need to continue the great tradition and organized an International Convention from 12 May 2016 to 14 May 2016 at Ujjain. The objective of the convention is to hold discourses concernning several aspects of human welfare such as religion, values, science, climate change, women empowerment and spirituality. A Universal Declaration on the Welfare of Humanity would be drafted by the convention.
This is the holy time to embrace the soul and body during the occasion of Simhastha or Kumbh Mela 2016. Do not miss the opportunity to be a part of the revered Indian occasion.
Sumana