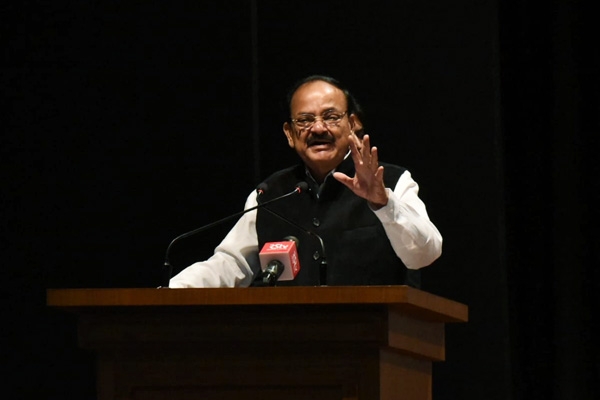 Vice President M. Venkaiah Naidu has said that India's keen desire for peace and prosperity all across is its strength and can give a befitting reply to sponsors of disruptive terror designs as demonstrated by the hugely successful air strikes yesterday. He further said that the operations of Indian Air Force were pre-emptive in nature and in defence of peace and prosperity in the country.
He was addressing and interacting with about 80 diplomats, researchers, academics and members of policy think tanks from 32 countries undergoing 'Kautilya Fellowship Programme' organised by the India Foundation. Ram Madhav, Director, India Foundation and other dignitaries were also present on the occasion.
"India's philosophy of 'Vasudhaiva Kutumbakam' (the whole world is one big family) all along shaped the country's interaction, outreach and external relationships with the countries, both near and far and its love for peace should not be taken as a weakness," he said. 
Presenting the aerial strikes against terror camps in perspective, Naidu asserted that "Ours (India) is a pacifist country with an earnest desire to foster peace everywhere. However, being non-violent and peace loving does not mean that we are weak or ignorant of threats to our security and integrity, he said. We are fully aware of these disruptive, destructive tendencies and forces that tend to derail our progress, he further said. We are committed to combat these forces and been fortunate to receive incredible, spontaneous support from several countries and we cannot be passive witness to terrorism and the rising tide of senseless violence, he added.
Elaborating on the grave consequences of rising terrorism across the globe for peace and development,Venkaiah Naidu urged the world community to wake up and join hands in the concerted fight against terrorism and to adopt the Comprehensive Convention on International Terrorism proposed by India and pending before the United Nations since 1996. Stating that global conflicts and wars have retarded human progress, Naidu stressed on the need to build strong defences against the forces that fuel hatred and cause untold human misery.
Naidu called for measures to stop the sources of funding of terror and added that the perpetrators of terrorism should be "named and shamed".
Charging the neighbouring country with aiding, abetting and funding terrorists and using terrorism as a State policy, he said it was trying to cripple the country.
Observing that India's earnest desire was to foster peace everywhere, the Vice President said that peace was a necessary prerequisite for progress.
-Sai Kumar