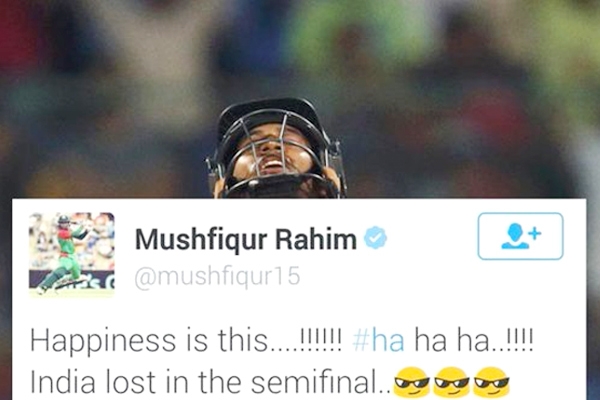 After India lost to West Indies by seven wickets in the semifinal of WT20 Cup 2016, at Wankhede Stadium, Bangladesh player Mushfiqur Rahim took twitter to take a dig at India.
In the microblogging website Twitter, Rahim wrote, "Happiness is this...!!! #Ha ha ha...!!! India lost in the semifinal". Along with the tweet, he posted a picture of MS Dhoni, who was seen in the post match presentation ceremony.
The tweet was removed later by Rahim. He even apologized later for the tweet. He said that he was a West Indies fan and so posted the tweet.
Mushfiqur Rahim was in the thick of the action when India won over Bangladesh in the group match. After skying a Hardik Pandya ball, Rahim concede his wicket in that match. He even admitted later that his 'impulsiveness' was the culprit. He apologized to the nation for the mistake he committed.
- Sumana