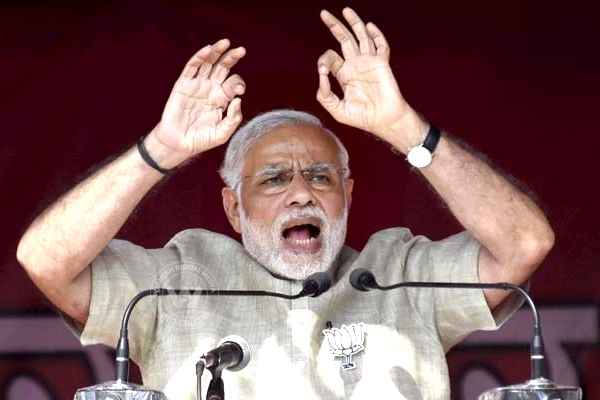 (Image source from: Modi says)
Prime Minister Narendra Modi broke silence on the issue of reservation and quota saying that no party today can afford to make any change to the quota policy. He added that quotas had not been tampered in states where BJP was in power at a poll meeting at Naubatpur in Patna on Sunday.
"There will be no change in the reservation policy that Babasaheb Ambedkar espoused in the Constitution… In fact, no party today can afford to make any change," Modi said.
"Rights given by Babasaheb Ambedkar for the socially backward classes will never be taken away by my government … " Mr. Modi added.
"I've been Chief Minister of Gujarat for 15 years… We've government in Madhya Pradesh, Rajasthan, Maharashtra, Haryana and in other States as well but nowhere reservation has been touched."
He also stroked on personal note saying that, "Sometimes I wonder had Babasaheb Ambedkar not been there, what would have happened to Narendra Modi, who was selling tea in trains in his childhood."
Thus, Modi has taken a bid to clear the confusion over stand of BJP on the issue of reservation. He said that even though he has differences on other issues with Lalu Prasad and Nitish Kumar, he shared same view on the quota issue.
Prime Minister said, "We cannot even think of doing anything with the reservation policy. There has not been any demand for a change in the policy from anywhere…in fact, there are only demands from others to include them in the reservation benefits."
- Sumana