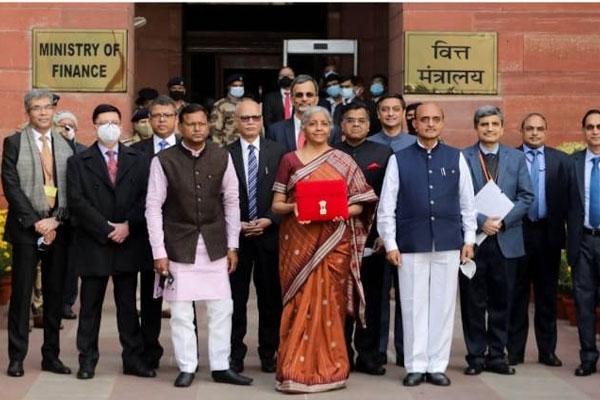 (Image source from: moneycontrol.com)
The country's Finance Minister Nirmala Sitharaman presented the budget 2022. After the pandemic broke out, this is the sixth budget session that is presented in the country. The Indian government decided to keep the income tax slabs without any change. The Reserve Bank of India will introduce a digital rupee using blockchain technology. Here are some of the key highlights of the Union Budget 2022:
The surcharge on the long-term capital gains are capped at 15 percent. The Gross GST collection in January is recorded at Rs 1,40,986 crores and this is possible due to the economic recovery. There would be no change in the income tax rates this year.
One can transfer 30 percent of the taxes on the digital assets. The gifting of the digital assets too will be taxed. The tax rates for the cooperative societies is reduced to 15 percent. For all the taxpayers who wish to correct the errors, they will have to file the updated returns within two years.
RBI will issue the digital rupee using the blockchain in 2023. The effective expenditure is Rs 10.68 lakh crores and it is 4.1 percent of the GDP. The capital expenditure increased by 35.40 percent from Rs 5.54 lakh crores to Rs 7.50 lakh crores.
The Indian government allocated 68 percent capital for the defense for procurement.
The optical fiber project named Bharat Net will be completed by the year 2025. 5G services will roll out in 2022-23 by the private firms.
The transliteration of the land records will be available in 8 languages.
E-passports with embedded chips will be available from 2023. 75 digital banking units in 75 districts across the country will be rolled out by the commercial banks.
Rs 44,605 crores will be spent for the implementation of Ken-Betwa rivers.
2 lakh Anganwadis across the country will be upgraded with better facilities.
Drone Shakti will be available through the application centers.
Rs 2 lakh crores is allocated for the micro and small enterprises.
2000km will be developed under Kawach Program. 400 Vande Bharat trains will be launched and there would be 100 PM Gati Shakti cargo terminals that will be coming soon.
Rs 2.7 lakh crores will be spent for the minimum support price for the wheat and paddy for farmers.
25000 km of new National Highways would be expanded.
By Siva Kumar