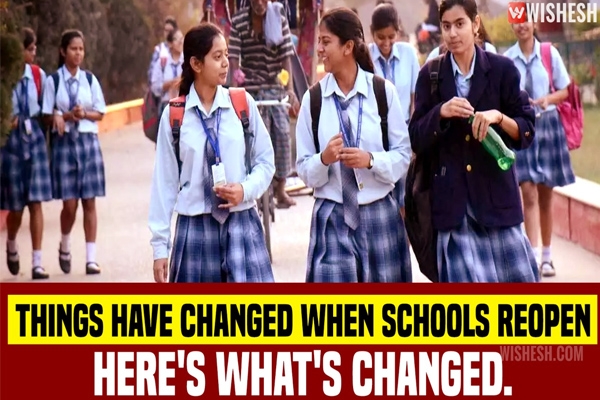 The coronavirus pandemic brought a long pause for the schools and colleges. The students had to rely on online classes and with situations turning favorable, the educational institutions are reopened from September 1st across the country. In the states of Delhi and Rajasthan, students from classes 9th to 12th are asked to attend the classes in school. The government of Uttar Pradesh asked the students from 1st to 5th class to join the school. Strict guidelines have been imposed considering the covid situation and things are not the same like before. The way of teaching and studying is completely changed.
There are no partners for the students to share the benches and desks. The children can also no longer share books and food with each other. The children will not get scolding for missing the homework copy and they are scolded if they are found without face masks. Half of the students are asked to attend the school and the other half from the class will be taught through online classes. The schools are shut for more than a year and a half and the parents faced several challenges to educate their children at home. For working professionals, the pressure mounted up as they are occupied with work pressure.
There was social interaction and healthy competition for children when they are attending classes in school. Studying, playing and eating together will be a special experience for every student. The children are now mounted with a stress as they are restricted to their homes and they are missing the school experience. Most of the students are now not aware of their fellow classmates. Mobile phones turned out to be the new friends and partners for children after the education took digital paths. The equation between the teacher and a student got changed completely. Several online apps are developed after the arrival of the pandemic. Education is now a commercial activity.
By Siva Kumar