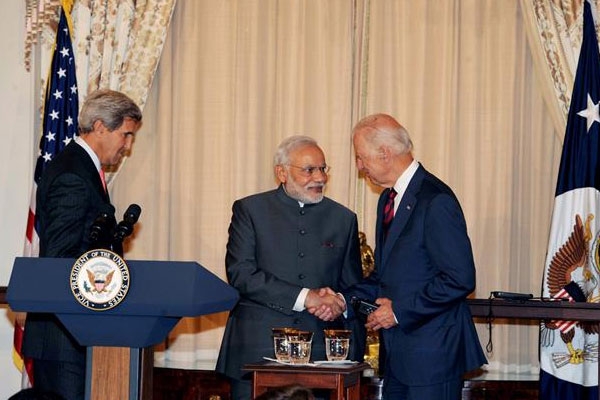 (Image source from: tribuneindia.com)
Prime Minster Narendra Modi speaks to American President Joe Biden on Tuesday. The discussion was about the importance of Indo-U.S partnership.

Modi tweeted "Spoke to U.S. President-elect Joe Biden on phone to congratulate him. We reiterated our firm commitment to the Indo-U.S. strategic partnership and discussed our shared priorities and concerns, COVID-19 pandemic, climate change and cooperation in the Indo-Pacific region"

He also conveyed his congratulations to VP-elect Kamala Harris. He said, she is an inspiration of Indian-American community who are a source of strength to Indo-U.S relations.
I also conveyed warm congratulations for VP-elect @KamalaHarris. Her success is a matter of great pride and inspiration for members of the vibrant Indian-American community, who are a tremendous source of strength for Indo-US relations.

— Narendra Modi (@narendramodi) November 17, 2020

This was the first meeting for both the leaders post Joe Biden's President election.During the telephonic conversation, PM Modi recollected the President Biden's visit to India in 2014 as Vice President.

In a recent statement, Ministry of External Affairs said that PM Modi views Mr.Biden's election as a testament to strengthen and resilience of democratic traditions in the U.S.

Biden's Relationship With India

President Biden's team thanked PM Modi for the hearty greetings on the U.S election victory.The team mentioned that "The President-elect thanked the Prime Mminister for his congratulations and expressed his desire to strengthen and expand the U.S.-India strategic partnership alongside the first vice president of South Asian descent".

Joe Biden is a strong supporter of India-U.S partnership since he represented as senator in 1970s. He actively took part in getting the approval for the bilateral civil nuclear deal in 2008.

Also during the presidency of Barack Obama and Biden as Vice President then, India and the U.S witnessed huge expansion of stronger defence, strategic ties. In presidential campaigns, Mr.Biden spoke about the scope of developing India-U.S partnership.

By Ramya C