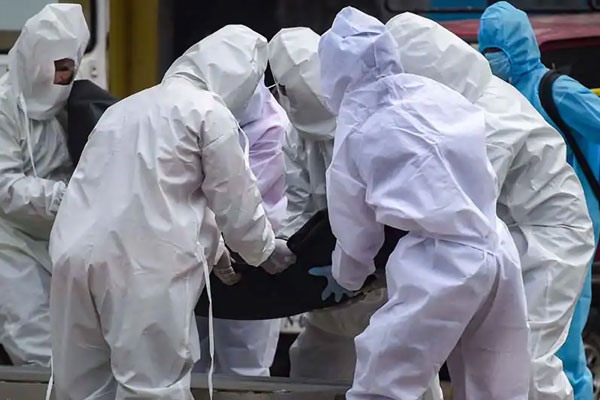 (Image source from: zeenews.com)
Maharashtra is the biggest contributor to the newly reported death toll. India records every one in three new deaths.
Union Health Secretary Rajesh Bhushan while addressing a press conference on Tuesday said that the recovered coronavirus cases in the country 3.4 times more than the active coronavirus cases and the recovery rate is more than 75 percent in the world.
But for India, whose COVID-19 mortality rate is among the lowest standing at 1.58 percent, the soaring death cases in the country are raising alarms.
India is almost closer to reach the US and Brazil in the number of COVID-19 cases recorded with the highest daily spikes in the number of cases being reported each day.
Meanwhile, India is also reaching another milestone by becoming a country that is reporting the highest new deaths each day since July.
However, in the United States, the second wave of newly reported coronavirus deaths seems to be lessening and Brazil has already reported the reduced mortality rate in over 3 months.
It is only in India that the death rate seems to be climbing up.
In the near future, India is likely to surpass the US and Brazil in terms of the COVID-19 deaths reported each day.
Maharashtra remains the biggest contributor to India's rising COVID deaths with the state still reporting one in three deaths each day.
Over the last month, Punjab has become a worrying new tension to the list of states contributing to highest deaths in the country.
Meanwhile, Gujarat and Delhi's contributions to this list have shrunk.
As of August 24, 200, Maharashtra has reported a whopping toll of 258 deaths, Tamil Nadu reported 97 and Punjab has reported 50 deaths.
At least 224 districts in India have reported at least one COVID death on Friday in addition to many districts in the country like Telangana that does not report deaths by the district.
Until last month, Mumbai has reported the most deaths in each day and it still has the highest mortality figures. However, the city's case count has been stabilized a bit with the city reporting a stable count of approximately 1000 cases per day.
Meanwhile, Pune's case count has shot up and is currently reporting most deaths in the state each day.
Pune has recorded 67 deaths on August 23 while Mumbai has reported 34 deaths only.
Most worrying factors in India has now become the soaring mortality rate. In May this year, only 39 districts have reported COVID deaths (not counting Telangana and Delhi) and in June itself, the number of districts reporting deaths has doubled and by August almost 220 districts have reported COVID deaths.
By Gayatri Yellayi