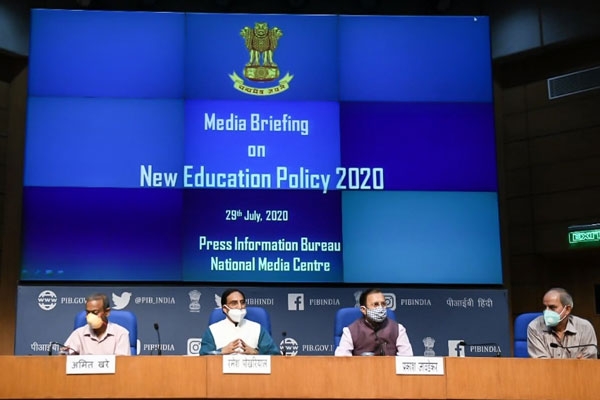 (Image source from: way2barak.com)
New Education Policy is the first education policy of21st century. Till now India has followed the education policy of 1986. Ministry for Human Resources has been renamed as Ministry of Education.
The Union Cabinet presided by Prime Minister Narendra Modi have approved the National Education Policy (NEP) 2020, making way for large scale transformations in both school and higher education sectors.
This is the first educational policy of 2020 is the first education policy of 21st century after the educational policy of 1986.
NEP 2020 is developed with the agenda of sustainable development and aims to transform India through quality, equity, affordability and accountability. The policy aims to make India a global super power of knowledge by making both school and college education more holistic, flexible and multidisciplinary.
Important Points of the New Education Policy You Must Know
Universal access at all levels of education in schools
From preschool to secondary education, NEP 2020 emphasizes on ensuring universal access to education in schools.
To achieve the universal access, NEP 2020 has emphasized on infrastructure support, innovative education centers to bring back the drop outs to main stream, tracking of students and their learning, open learning for classes 3,5 and 8 through NIOS and State Open Schools, vocational courses, life enrichment programs, secondary education studies equivalent to grades 10 and 12.
Through this policy, about 2 crores of out of school children will be brought back into mainstream.
Early Childhood Care and Education
The 10+2 structure of the educational curriculum will be replaced by 5+3+3+4 curricular structure and will correspond to the age groups 3-8, 8-11, 11-14 and 14-18.
This system of curricular categorization will enable the uncovered groups of 3-6 years age group to come under the curriculum. The new system of schooling will have 12 years of schooling with 3 years of pre schooling.
NCERT will be developing National Curricular and Pedagogical Framework for early childhood care and education for early education for children up to the age 8.
The planning and implementation of this framework will be carried out jointly by the HRD ministry, Women and Child Development (WCD), Tribal Affairs and Health and Family Welfare.
Attaining Foundational Literacy
As foundational literacy is a necessary prerequisite to learning, NEP 2020 is setting up a National mission on foundational literacy and numeracy.
States across India will be preparing a universal plan for attaining foundational literacy in all primary schools for all children by grade 3 by 2025.
Reforms in school curriculum
The reforms in curricular content include reduction of syllabus and focus will be on practical learning.
Students will have increased flexibility in choice of subjects and there will be no rigid separation between arts and sciences, curricular and extracurricular activities and vocational and experimental streams.
Vocational education will start in schools from grade 6 and will also provide internships.
More focus on the Power of Language
Mother tongue or local language will be the medium of instruction till grade 5. Sanskrit will be provided as an optional subject at all levels of schools.
Classical languages and other works of literature will also be enabled in the optional subject choices.
No specific language shall be imposed on any student.
Several foreign languages will also provided at the secondary level of schooling.
Reforms in Assessment
NEP 2020 gives importance to formative assessment and tests students for higher order skills like critical thinking, analysis and conceptual clarity.
Board exams for grades 10 to 12 shall be continued but will be redesigned with the aim of holistic approach.
A new assessment model PARAKH (Performance Assessment, review, and Analysis of Knowledge for Holistic Development) will be implemented as a standard testing.
Equitable education
No child will be barred from education based on birth or background. Special education zones will be set up for economically disadvantaged groups.
Children with disabilities will also be allowed to participate in regular schooling process with the support of cross disability training.
Every state will establish Bal Bhavans as a day time boarding school for art and play related activities to the children.
Robust Teacher recruitment
Teachers will be recruited through a transparent process and promotions will be given based on merit.
A common National Professional Standards for Teachers (NPST) will be developed across regions by NCERT and other expert organizations.
By Gayatri Yellayi