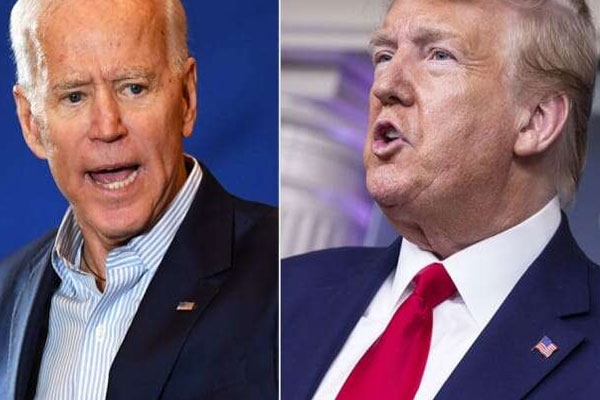 (Image source from: cnbcfm.com)
US incumbent President Donald Trump will face former vice President of the US, Joe Biden in this election 2020.
The first debate in the run for President's post in the US will be held in Cleveland, Ohio on September 29 this year. The notice was issued on this matter by Commission on Presidential Debates (CPD) on Monday.
According to the statement released by the CPD, the first Presidential debate will be hosted by Case Western Reserve University and the Cleveland clinic at the health education campus in Ohio on September 29.
US President Donald Trump will be facing Democrat Challenger and former vice president of the US, Joe Biden. The election is set to be held on November 3 this year.
After the first debate, CPD has announced that the second debate between Donald Trump and Joe Biden will be held on October 15 at Adrienne Arsht Center for Performing Arts in Miami, Florida. The third debate between the two according to the CPD will be held on October 22 at Belmont University in Nashville, Tennessee.
Additionally, CPD will also hold a Vice-Presidential debate on October 7 at the University of Utah in the Salt lake between Vice President Mike Pence and his democratic challenger for the same post who is yet to be announced by Joe Biden.
All the three debates between Trump and Joe Biden along with one debate between the vice presidential candidates will be 90 minutes long from 9 to 10 30 pm ET. There will not be any commercials and the debate will be broadcasted live by the White House Pool networks, according to a report.
Recently, in an interview with CNN, Trump had said that he would not abide by the election results if he loses the elections. He said the same in the precious elections with Hillary Clinton.
However, it seems that trump is a bit worried with the poll results where Joe Biden is leading by a large margin.
Apparently, people in the US have been disappointed with the way Trump has carried the coronavirus crisis on his shoulders and how he took no measures to hamper the affect of coronavirus on the public. He instead reiterated that economy needs to be reopened and started opening schools and colleges.
The US is the leading country in the world in terms of number of coronavirus cases and the death toll reported till now. Russia comes next in the list followed by India.
The US has reported 4.43 million confirmed coronavirus positive cases and about 151,000 people succumbed to the virus.
By Gayatri Yellayi