100-year Old Mumbai Man Recovered from COVID-19, Discharged before 101st Birthday
July 16, 2020 11:59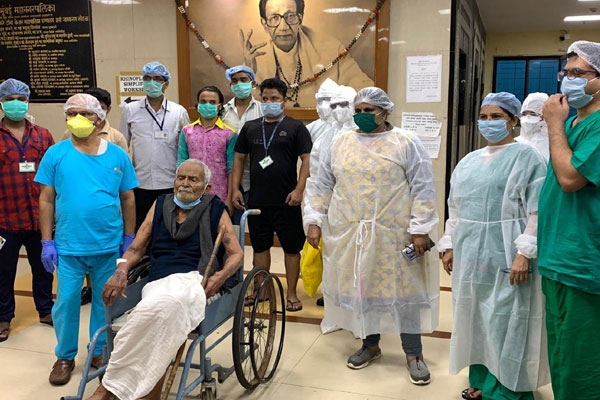 (Image source from: i.ibb.co)
The hospital staff of Mumbai celebrated the 101st birthday of Naringrekar. He was discharged from Hindu Heart Emperor Hospital after celebrations.
In what comes as a relief in this distressing period of pandemic, a 101 year old man, Arjun Naringrekar has recovered from COVID-19. He was completely cured of the disease and received a discharge letter on the eve of his 101st birthday.
Notably, Arjun's 101st birthday was on July 15 and he was discharged the previous night after a brief celebration by the hospital staff.
To celebrate his achievement in defeating the coronavirus, the hospital staff has discharged Naringrekar with applause also marking his birthday the next day.
Arjun Naringrekar was admitted to Hindu Hear Emperor Hospital on July 1 after complications had arised due to COVID-19 infection in his lungs.
The century-old man has managed to recover completely from the disease only in two weeks which comes as a remarkable feat by an elderly person. This feat is considered nothing short of an amazement according the medical staff at the hospital.
The centenarian had also thanked the hospital authorities on his behalf for saving him from the deadly virus.
Arjun Naringrekar was born on July 15, 1920 and had entered 101st year on Wednesday.
Clearly, Mumbai has become the hotspot of coronavirus in the country as the number of cases nears 95,100. The death toll in the city had reached to 5400. The spread of the virus in the city has shown a large spike recently.
According to health ministry's report, Maharashtra records the highest number of coronavirus cases in the country with 2,67,665 positive cases so far and with 10,695 deaths. Recently, Pune has announced a lockdown again for 15 days after spike in number of cases. States like Bihar, Karnataka and Kerala have also recently re imposed lockdown in their respective capital cities to limit the infection spread.
By Gayatri Yellayi