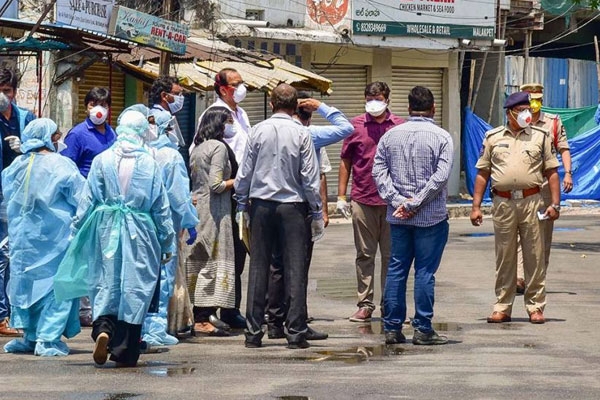 (Image source from: outlookindia.com)
A lavish birthday party in Hyderabad has made the host succumb to coronavirus on Saturday.
A top Hyderabad Jeweller of the Himayatnagar area threw a luxurious birthday party for which 100 people have attended. The host has started developing symptoms 2 days after the party and was admitted to hospital for treatment. He succumbed to the virus in the hospital.
This incident has sparked panic among the 100 attendees which made them throng the private labs for testing of COVID-19.
Of the 100 people attended, there was another jeweler too who tested positive for COVID-19. He also dies on Saturday. Health officials suspect he developed the virus by direct contact through the host.
A minimum of 100 members from the jewelers association had attented the lavish party. The officials have now started the process of contact tracing to find out whoever might be likely to be tested positive.
This is not the first time such an incident has happened in the city. A police constable who had distributed sweets after the birth of his son has also tested positive for COVID-19 along with the 12 people who have taken the sweets, on Saturday.
Director of Public Health has said that lack of strict following of the government orders by people is leading to widespread infection in the city. People have stopped following social distancing measures since the relaxations have started and have been arranging large congregations and celebrations which lead to community spread of the virus.
Also on the same day, Telugu Film Producer Pokuri Rama Rao has died of COVID-19 after being admitted to a private hospital.
There is a huge spike in COVID-19 cases around the GHMC vicinity with at least 77% of the total cases recorded in Telangana are from Hyderabad itself. But, the government is not likely to impose any lockdown considering the economic impact.
Also, starting Monday, sightseeing places like Golconda and Charminar are being reopened in the city for the public and the government is expecting a good number of visitors.
Telangana has reported 23000 cases so far with the biggest daily jumps of 1000 cases each day. Only in the GHMC area, 1277 new cases were recorded on Sunday. The total number of patients cured and discharged stands at 12,703.
By Gayatri Yellayi