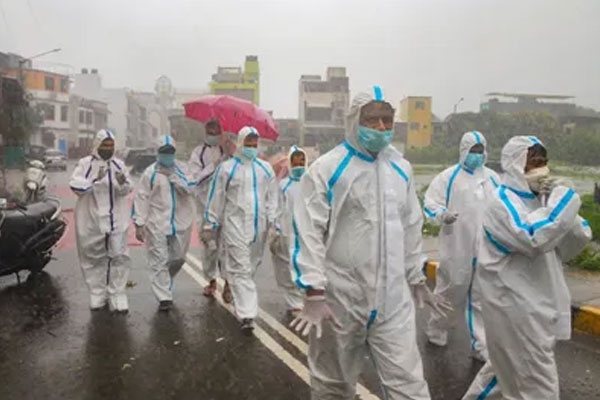 (Image source from: timesnownews.com)
After the United States and Brazil, India now becomes the third worst hit nation by coronavirus as total cases in the country reach 6.97 lakhs.
As India recorded 24,248 new COVID-19 positive cases on Sunday, India's total tally accounts to 697,413 as on Monday, making the country 3rd most affected nation due to the pandemic.
Meanwhile, the total number of COVID-19 cases in the United States reaches 28.8 lakh and Brazil's count reaches 16.3 lakh, making these two countries the top 2 worst hit nations in the global pandemic.
However, Russia which stands 4th in the list has 6.8 lakh cases registered till now.
The active cases in India stand at 252,402 while the recovered patients' count is 424,885. The death toll in the country spikes to 18,699 on Monday.
Maharastra continues to be the worst affected state with more number of cases being reported this week. The state has 206,619 registered positive cases for coronavirus and 8822 deaths. As many as 7000 new COVID-19 cases have been reported on Sunday, July 5.
However, Delhi has crossed Mumbai city to become the worst affected city due to COVID-19. Mumbai has 69,625 cases while Delhi has crossed the 70000 mark on Monday.
Additionally, the states of Uttar Pradesh, Gujarat, Tamil Nadu, Assam, Madhya Pradesh, Karnataka and West Bengal too recorded a spike in the daily number of cases.
After Maharastra, Tamil Nadu is the next worst-hit state with over 1.11 lakh cases.
Though the country is reporting a rise in the COVID-19 cases, the government still says that there's no community transmission till now.
The sharp increase in the number of positive cases each day is worrying the country as the country recently entered into Unlock 2.0 phase with more relaxations.
Some of the states like Karnataka, West Bengal, and Jharkhand have extended their lockdown to curb the spread.
The global coronavirus infection count has reached 11,371,346 as on Sunday with death count reaching 536,852.
With the global count increasing at an alarming rate, scientists across the world are scrambling to develop a vaccine to fight COVID-19.
By Gayatri Yellayi