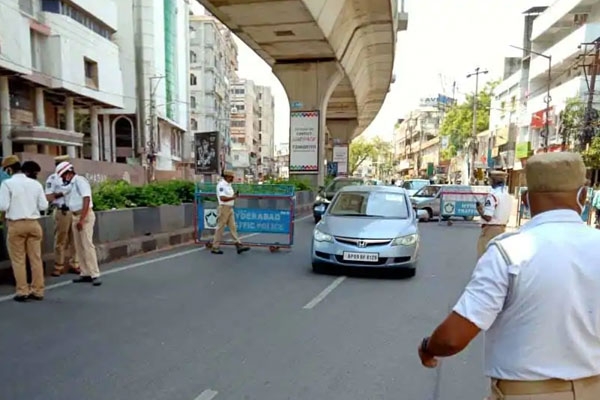 (Image source from: zeenews.com)
Telangana government is considering options to reinstate lockdown in the GHMC again at least for a period of 15 days due to rise in the number of COVID-19 cases in the past few days.
The state government is mulling on imposing a strict lockdown in Hyderabad again to contain the spread of coronavirus from July 1 2020. The decision will be taken by Chief Minister K. Chandrashekhar Rao after 3 days.
With nearly 1000 cases every day and 90% of them from Hyderabad itself, the cases in Telangana have crossed 14000 as of today.
According to health officials of the state, a decision to shut down the city for at least for two weeks has already been on talks but Sunday's announcement was to inform people about the stringent impositions during lockdown.
A decision on this would be likely taken within three to four days. Some medical experts too suggested the government authorities that a 15-day lockdown in the city would limit the infection spread.
Like other metro cities in the country, Hyderabad has also witnessed a drastic rise in number of COVID-19 cases after the lockdown is lifted on June 1.
Earlier, Chennai has also imposed lockdown for a period of eleven days from June 19 to June 30 to contain the spread of virus and many other cities are planning to redo the lockdown.
"Government machinery and the people should be ready for this. Especially, the Police department should be kept ready. Cabinet meeting should be convened", said KCR, chief minister of Telangana on Sunday.
He also mentioned that he would observe the situation in Hyderabad for coming three days and then decide on imposing lockdown and other preventive measures.
Moreover, the Chief Minister ensured the people in the state to get scared due to a sudden spike in cases as the government has taken all proper measures to offer the necessary treatment to the needy.
He also asserted that if lockdown is imposed in the city it would be implemented in a very strict manner with only one or two hours of relaxation to buy the essentials. All flights and train services would be closed.
Adding to this, the health minister Rajendar said that, like in every other state in the country, Telangana is also seeing rapid increases in infections but the death rate in the state is less than the National average. He also said that he made sure proper treatment is made available to the patients and there are sufficient beds to them in Government and private hospitals and even in colleges.
Although, asymptomatic patients are being informed to stay at home and be self quarantined.
Telangana has reported highest positive rate 27.7% and lowest number of tests being done per million from June 10 to June 23 for which, the Centre has raised questions. The state has recorded over 230 deaths. As on Sunday, June 28, above 1000 positive COVID-19 cases have been recorded in Hyderabad itself taking the present total cases in the state to 14.419 as of today.
By Gayatri Yellayi