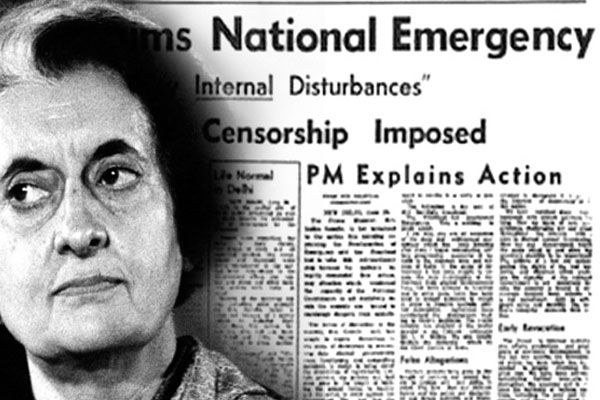 (Image source from: amazonaws.com)
June 25, 2020 marked 45 years to the tragic "National Emergency" declared by former Prime Minister Indira Gandhi.
The nation recalled its dark chapter yesterday when the former President of India Fakruddin Ali Ahmed, declared emergency on Indira Gandhi's Advice. BJP veterans and now-politicians throw tantrums on Congress government while remembering the 21-month Black Chapter.
"The biggest democracy in the world turned into monarchy of a political party", said former Union minister Shanta kumar in a press statement.
Incumbent Information and Broadcasting Minister, Prakash Javedkar launched an attack on Congress by saying, "Those who killed democracy 45 years ago are now questioning the government".
"The President has proclaimed emergency. There is nothing to worry about", were the words of Indira Gandhi heard from All India Radio which took the nation by storm.
This announcement marked the beginning of many tragic events in the country.
For those of you who didn't witness it, we would like to take you through the journey of the 'Black Chapter' of India.
The proclamation of emergency was signed by President Fakruddin Ali Ahmed the previous night itself.
Minutes after the announcement by Indira Gandhi, the newspaper presses sank into darkness as a power cut across Delhi made sure nothing could be published for 2 days.
On the other hand, during the dawn of June 26, all political leaders, activists, trade unions who were an opposition to the Congress party were imprisoned.
The constitutional rights and freedom of speech were withdrawn.
Meanwhile, Indira Gandhi tried to justify her gesture with these statements.
"Indian Security and Democracy was in danger owing to movement launched by Jaya Prakash Narayan."
"There was a need for the development of the under-privileged".
"Intervention of powers from abroad could weaken India".
                     (Image source from: indianexpress.com)
A brief timeline of significant events that happened during her stint as a Prime Minister:
January 1966: She was elected as the Prime Minister of India.
November 1969: The Congress splits after she violated party discipline and got ousted.
1973-1975: Heavy political unrest and demonstrations took place against Indira Gandhi-led government.
1971: A complaint was lodged against Indira Gandhi for her fraud during the election by Raj Narain, Political opponent.
June 12, 1975: She was found guilty by Allahabad court over her electoral fraud.
June 24, the same year: Supreme Court in its judgment rules out Indira Gandhi for MP privileges. She is banned to vote though she can continue as the Prime Minister.
June 25, 1975: Fakhruddin Ali Ahmed declares emergency on her advice.
June 26, 1975: She addresses the nation on All India Radio.
September 1976: Mass force sterilization program by Sanjay Gandhi in Delhi.
January 18, 1977: Indira Gandhi calls frees all prisoners and announces fresh elections.
March 23, 1977: National emergency concludes.
Which incidents provoked Indira Gandhi to declare emergency?
In 1973, students of LD College, Ahmedabad started a protest against hike in fees. In the same year many other students started protesting soaring prices of food grains and the growing corruption.
Soon, many opposition parties joined the protest which led to the imposition of President's rule in Gujarat.
Moreover, students of Bihar too joined the protests and invited JP Narayan, who by then had given up politics and joined social service. This has led the issue to reach National Level. Narayan has held a huge rally in 1975 where he began Nation-wide Satyagraha for Indira Gandhi's resignation. The employees of Railways also called for a country-wide strike.
On June 12, 1975, Justice Ram Mohan declared his election to be null and void as she misused the state machinery.
All these events together led for her to decision to declare the state of emergency.
By Gayatri Yellayi