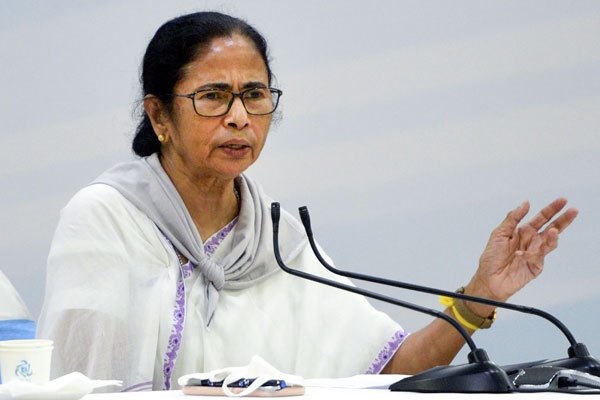 (Image source from: deccanherald.com)
Amid the ongoing spike in the number of cases, Mamata Banerjee announced in a press conference her decision to extend the lockdown till July 31.

West Bengal Chief minister Mamata Banerjee, on Wednesday, after an all-party meeting in Nabanna, Kolkata, addressed the media and announced the government's decision to extend the lockdown to contain the spread of COVID-19.

The state will observe a complete lockdown only in the containment areas whereas relaxations are allowed in the remaining areas.
Important takeaways from the press-conference:
After a detailed meeting with the senior leaders of all parties of West Bengal where Speaker of the State Assembly, Biman Banerjee was also present, the Chief Minister came up with some important announcements to the public.
All educational institutions will remain closed till July 31.
Government organizations will function with 70% strength in a segregated manner.
All local train services including metro rail will remain suspended.
Religious places and private offices will have reduced attendance.
After the commencement of Unlock 1.0 throughout the country, West Bengal government has given its permit to restaurants, shopping malls and other similar outlets to re-open with careful preventive measures. Since then, the state has seen a surge in number of coronavirus cases.

West Bengal has recorded 15,173 positive cases till date. Meanwhile, the death toll rose to 591 as 11 more deaths recorded in a day.

In the press conference held on Wednesday, she said "Today we have discussed the lockdown issue. Though there are different opinions among the people, I have told leaders of political parties here about our view to extend the lockdown….So, let us come together and extend the lockdown maintaining the relaxations."

The incumbent lockdown in West Bengal was supposed to end on June 30, 2020.

As of today, the COVID-19 tally in India has risen to 4,73,105 after about 17,000 new cases were recorded in a span of 24 hours. More than 400 deaths were recorded across the country, taking the total count to 14,894.

Delhi continues to remain the city with highest number of COVID-19 cases with a count of 70,390 cases recorded so far.

By Gayatri Yellayi